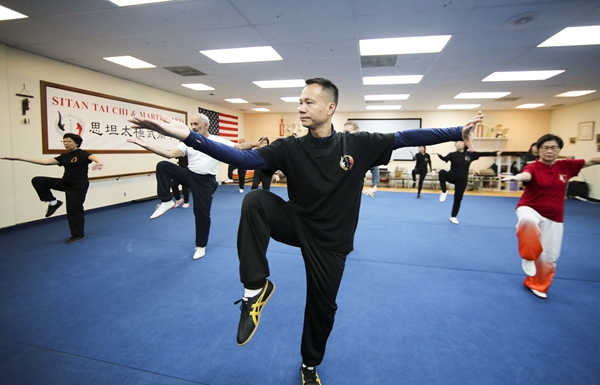 Chen practices tai chi with students at Sitan Tai Chi and Martial Arts in New York.[Photo/Xinhua]
The couple started teaching tai chi and other martial arts in schools, before founding Sitan Tai Chi and Martial Arts to promote tai chi and provide a forum for fans.
The school's class schedule now includes different forms of tai chi, such as 24 form and 42 form, tai chi sword, tai chi kung fu fan, health qigong and other martial arts.
Tai chi's slow, graceful movements are accompanied by deep circular breathing. The movements work with qi, or life force, a type of "flow" that everyone has, says Lin.
There is growing evidence that this body-and-mind practice that started in China as a martial art has value in treating and preventing many health problems.
This gentle form of exercise can help maintain strength, flexibility and balance, and may be practiced at any age, according to a study by Harvard Medical School.
Lin says people from different age groups come to her classes for different reasons.
"Parents send their kids to my class to improve their fitness and learn about Chinese culture, while adults attend to relieve work stress. Retirees practice it to prevent health problems," she says.