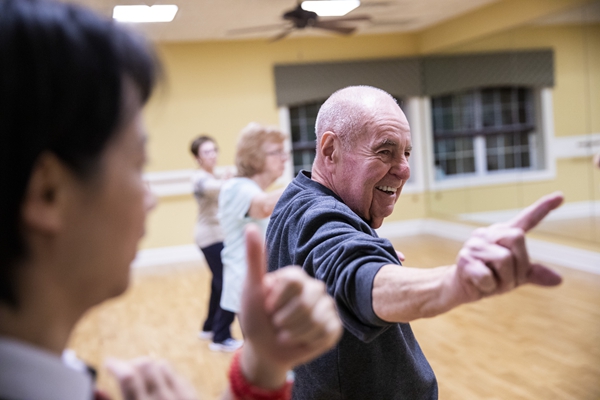 Lin teaches an elderly student during a group tai chi class at the club house at The Seasons in East Meadow, New York.[Photo/Xinhua]
A former tai chi world champion is making martial arts an everyday part of New York life in the hope of broadening the appeal of Chinese culture, Xinhua reports.
The ancient Chinese martial art of tai chi is increasingly becoming a way of life for many New Yorkers, thanks in part to the efforts of former world champion Chen Sitan and his wife Lin Xu.
From 5-year-olds to people in their 70s, New Yorkers of every background have been attracted to tai chi through the couple's classes, the tai chi and health qigong festivals they organize, and the community events they initiate in libraries and retirement clubs.
Chen started learning martial arts at age 6. By age 30, when he retired from his athletic career, he had already won 32 gold medals in Chinese and international competitions.
After coaching athletes for several years, Chen decided to come to the United States in 2003 in the hope of broadening the appeal of Chinese culture through tai chi.
"Tai chi is not just about competition. It means much more-it's a way of life," says Chen.