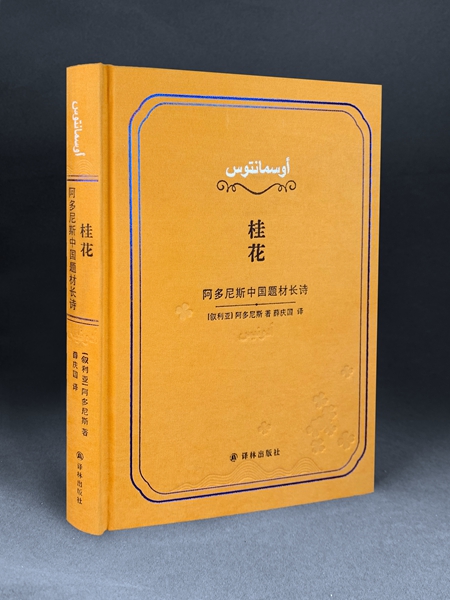 Syrian poet Adunis' new book published in China.[Photo provided to China Daily]
James Waugh, vice-president of franchise content and strategy at Lucasfilm, oversees the Lucasfilm Story Group, which he describes as "a team that helps steward the galaxy's fiction as it traverses franchise platforms", at the announcement of the new web novel series in Shanghai. Waugh says he is excited "by the potential of this initiative and for sharing the aspirational adventure and exploration that is the Star Wars galaxy with so many Chinese readers".
"It's important to Lucasfilm to meet Chinese consumers where they are and include this thriving and unique market in the global excitement around the franchise," Waugh says. "The first Chinese Star Wars web fiction gives us an opportunity to tell an original Star Wars story and showcase new characters for the Chinese market written by an exceptional Chinese author."
Those new ways of cooperation also include Qingdao Publishing Group's announced acquisition of the Museum for Junichi Watanabe Literature in Hokkaido.
The four-story building was designed by Watanabe's friend and architect, Tadao Ando, and built in 1998. The writer's work, awards, sketches and manuscripts are on show there.
The Japanese writer is known for his best-selling novel on fatal extramarital affairs, A Lost Paradise, with the latest Chinese version published in China by Qingdao Publishing Group.
The group continues to open the Watanabe museum to visitors for free, and with greater promotion targeting literature lovers in both countries, it hopes to enhance the people-to-people ties, and boost more cooperation with his copyright holders in the planning of further TV and film adaptations.
This month, 89-year-old Syrian poet Ali Ahmad Said Esber-better known by his pen name, Adunis-is on a book tour of China, which ends in late November, to introduce his latest work, an epic poem with 50 chapters entitled Osmanthus.
A frequent visitor to China, Adunis got the inspiration for his poem from his 2018 tour of the country, when he visited Huangshan Mountain in Anhui province, and planted a sweet osmanthus tree in a Guangzhou suburb in Guangdong province.
The poem, published in China by Yilin Press, is about China, and combines Adunis' personal experiences in China with Arabic philosophy.
"It's a significant moment in the history of foreign literature exchanges with China, when a heavyweight writer like Adunis expresses his thoughts and love of contemporary China in this scale," Xue Qingguo, his translator and professor with Beijing Foreign Studies University, says.