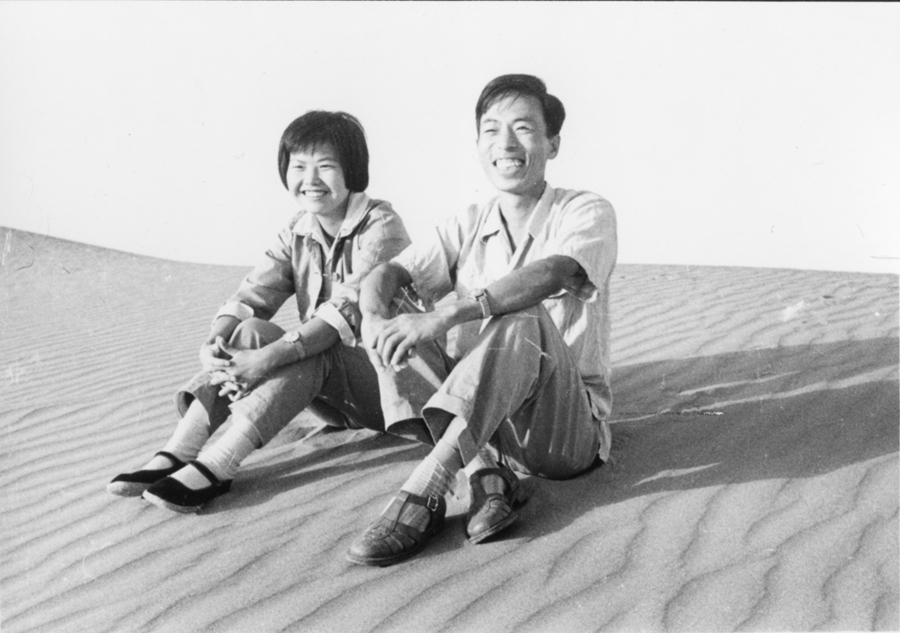 Fan and her husband, Peng Jinzhang, in Dunhuang in the summer of 1965.[Photo provided to China Daily]
A new stage production explores three popular Chinese love stories through the mediums of contemporary dance, theater and music, Chen Nan reports.
When archaeology graduates and young couple Fan Jinshi and Peng Jinzhang left Peking University in 1963, they soon found themselves separated when Fan took up her post as a researcher at the Dunhuang Academy in Gansu province, and Peng became a teacher at Wuhan University in Hubei province.
When they married on Jan 15,1967, they looked on their separation as a temporary situation. However, their long-distance marriage lasted for 19 years, and only ended when Peng moved to Dunhuang to work alongside Fan at the Dunhuang Academy as a researcher in 1986.
A major stop on the ancient Silk Road, the city of Dunhuang in northwest China is best known for the Mogao Caves, a UNESCO World Heritage site which is home to a priceless collection of Buddhist sculptures and murals set in 735 caves carved out over the course of a millennium.
Born in Beijing and raised in Shanghai, Fan was the head of the Dunhuang Academy between 1998 and 2018. When she first arrived at the Mogao Caves at the age of 24 in 1962, some 25 kilometers southeast of Dunhuang city, to start her internship at the Dunhuang Academy, there was no fresh water or electricity there. Despite the harsh conditions, she spent 57 years working in Dunhuang and has devoted her life to the research and protection of the Mogao Caves.