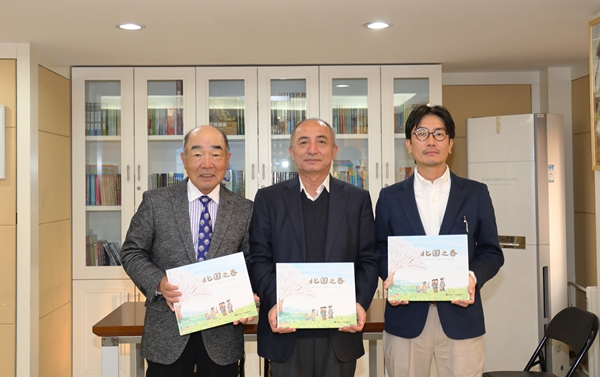 Japanese lyricist Haku Ide (left) and his son and illustrator, Shinji Ide (right), pose with Bai Bing, Jieli Publishing House's editor-in-chief.[Photo provided to China Daily]
"The song's popularity in China has endured more than in Japan, and people still sing it to this day because of the social situations it describes-the homesickness of migrant workers, and the trend toward urbanization," Lyu says.
For the book's publisher Bai Bing, 63, editor-in-chief of the Jieli Publishing House, the song is a karaoke favorite among his generation.
"In my childhood days, as Haku Ide depicts, I stayed close to nature and I remember how I worried most about my goldfish if I went away for a few days," Bai says.
"The sense of prevailing loneliness some of us feel nowadays is mainly caused by our separation from nature," Bai adds. "Ide's book just brings back that connection."
The publishing house was persuaded to take on the project by translator and picture book expert Tang Yaming, who immediately recognized the popularity of the song and the book's potential and the value of being the first publishers of the book.
"The book has an original Chinese title, although written and illustrated by Japanese creators. We also hope to sell its copyright to more international markets, including Japan," Tang Ling, director of Jieli's Infant Books Branch, says.