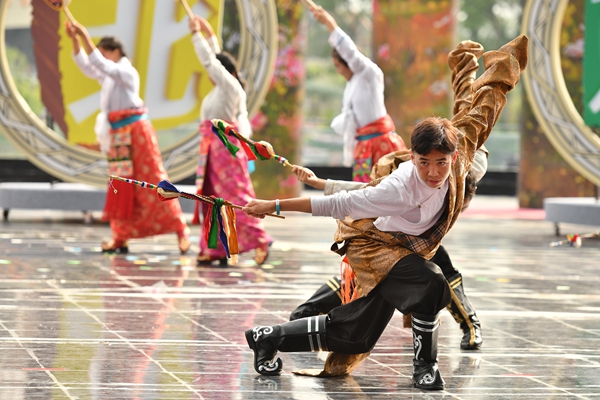 Remeng Keba ensemble from Qinghai province performs The Great Mountain Peak.[Photo provided to China Daily]
This summer, Beijing Garden Expo Park is abloom. Not just because of the ongoing 2019 International Horticultural Exhibition, but it was also radiant with florescent adolescence, as thousands of festively-dressed teenagers gathered, conversed and performed as part of a recent Joy Dancing Beijing cultural and art exchange.
Among them was Dombzhub Tsering, a Tibetan high school boy. "By attending the festival, I have encountered a lot of dance styles I have never seen before and I have learned much about dances from different countries and their cultures," he says.
He and his teammates at the Remeng Keba ensemble from Northwest China's Qinghai province opened the event on Aug 10 by performing The Great Mountain Peak, a folk dance featuring original choreography that illustrates a local ritual to offer sacrifices to the mountain gods.
"These kids are all quite timid, but when they start dancing, you can see their passion," says Wang Hongbo, their teacher and the artistic director of the ensemble.
Set up in 2014 by Wang and several other voluntary teachers, the troupe aims to help the Tibetan children receive more educational opportunities. For the troupe's name, Keba is a reference to the name of their village, that lies deep in the mountains of Hualong Hui autonomous county in Qinghai, while Remeng means "fervent dreams".
This is the sixth time that the troupe has participated in the annual event. Wang and other teachers seek every opportunity to broaden the horizons of the children.
"The first time I took them to this festival, they were shocked by the scale of such a gala. They saw so many things that they were never aware existed," Wang says.
According to Wang, by joining in the ensemble, quite a few teenagers from the village have gone on to study the performing arts at university in big cities. Dombzhub Tsering also aspires to continue his studies when he graduates from high school, with his greatest aspiration being to study drama at an art college in Beijing.
An exchange week for international youth, this year's event welcomed over 5,000 participants from 13 countries, including Russia, Germany, Peru and India. Many performers showcased traditional dances from their own countries.