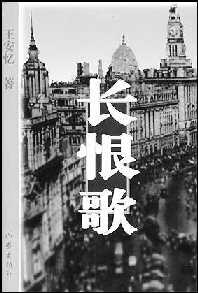 It is fair to say that Wang's works have become more unique and mature everyday in the past 20 years. Since the 1990s, Wang's works have also been more spiritual. Though most of the figures under Wang's pen are common people, Wang can still find "heroic features" in these people.
Changhen Ge(Song of Everlasting Sorrow), a winner of the Fifth Mao Dun Literature Award, ranks the most important ofs all of Chang's works.
"Changhen Gedoes not only depict a city, but rather demonstrate a whole new view of a city that could hardly be achieved in the sense of historical research or personal experience. The epic-like approach is rare in the novel circles all over the world," noted the Sin Chew Daily newspaper.
Despite the disjointed, abundant, and complex details in the novel, the bookChanghen Geis never boring, thanks to Wang's extraordinarystorytellingability.
When not writing, Wang spends most of her time on reading and contemplating. She reads almost every book she could possibly find, writing down notes and pondering in the process.
"While we stick to our own experience and conclusion, we should understand sincerely and observe other people's views on life, and enjoy the infinite spiritual landscape in people. When we read books with the trust we have in ourselves, the books will integrate with us, meaning we will in fact reading about ourselves as well," noted Wang.
Author: Jeff