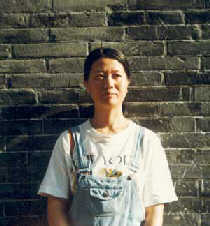 However, Wang is not a writer leading a secluded life; she also likes to spend her spare time with others. "Writing is a lonely business. Especially today, when the market is gradually turning literature into product, the more a writer maintains a serious attitude in writing, reading, and meditating, the lonelier he or she become. So let's unite together, hand in hand, to get through this transition period."
In the market-oriented society, literature is dividing into different branches. "The popular literature is well on its way in the market process, while the 'less-accepted' serious literature has been pushed aside," Wang said
"It is very normal that serious literature is a bit lonely, but what worries me is the marketable and fashionable mass literature, which has influenced the young people's attitude towards literature. They don't really see the delight, attitude, and aesthetic pursuit of real literature," Wang noted, warning, "The criteria of a good work is gradually being lost."
"At this moment, the literature spirit is critical. A city with or without literature could be dramatically different. Literature could improve the artistic style of a city," stressed Wang, adding, "Real serious writers should have their own higher standards beyond the market's requirements. One of the most important tasks of the Writers' Association is to provide a better environment for writing, in which the writers do not have to rush to the market."
Clear-headed, reasonable, and independent, Wang is brimming with popular confidence.
"She is different. She does not pursue the literature posh. She does not drift with the tide. She is one of the best writers in Shanghai, or even in China," said a member of the Shanghai Writers' Association.