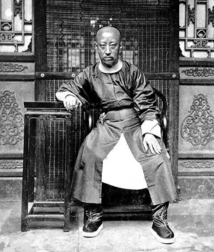 Aisin-gioro Yixin, also known as Prince Gong, in his garden abode. [Photo provided to China Daily]
But Prince Gong's Mansion still belonged to Yixin's family and successors, until 1932, when the prince's grandson, knee deep in debt, sold it to a Catholic university in Beijing.
After the People's Republic of China was founded in 1949, the mansion was put to various uses at various times. At one time in the early 1980, the entire compound was divided up between more than 200 occupants.
Relocation and restoration started in the mid 1980s. In 2008, the mansion was officially opened to the public, and since then was hailed for "housing half of the Qing history".
One thing that a tour guide never fails to point out for a visitor is a Chinese character, fu, carved in stone and hidden in a cave underneath a manmade hill inside the mansion's garden. (The mansion is split in two: a more formal frontal part and a back garden.) It is believed that the character was originally written by Emperor Kangxi, grandfather of Emperor Qianlong, before it was inscribed on stone.
How the fu-bearing stone stele ended up in the mansion no one knows. Like the bats and bat-inspired architectural designs, it was expected to protect the owners of the mansion from harm, and to imbue their life, and hopefully afterlife, with fortune. Fortune they certainly had had, before it dissolved in the acid of lust and was swept away by the currents of history.