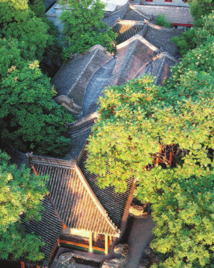 [Photo provided to China Daily]
In 1861, less than 10 months after the Treaty of Beijing was signed, Emperor Xianfeng died. A month later Yixin staged a palace coup together with two empress dowagers. The aim was to grab power from the "eight consuls", whom the dying emperor had entrusted to guide the new ruler, the five-year-old Emperor Tongzhi.
The coup succeeded. The empress dowagers, especially Empress Dowager Xici, who was the new emperor's birth mother, came to power. Yixin was rewarded handsomely. But that was hardly a guarantee of safety: over the following decades, Yixin gingerly negotiated the immensely complicated political waters of the Qing Dynasty in its twilight years, only to have himself reduced gradually to a shadow of his former self, with little courage for change.
Once at the helm of a movement aimed at empowering the empire mainly through introducing science, technology and manufacturing from the West, Yixin stood on the opposite side of the reformers as they sought to more fundamentally change China's political, cultural and educational systems. It was recorded that when the reformed-minded Emperor Guangxu, who was his nephew, pleaded with him, he resorted "only to silence".
That silence was symbolic. Yixin died in May 1898, barely four months before the reformers were slaughtered by the Cixi-headed conservative group and 13 years before the fall of Qing, replaced by a republic.