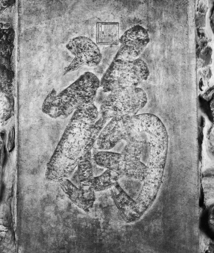 An inscription of the Chinese character fu, based on the calligraphy of Emperor Kangxi. [Photo provided to China Daily]
It was clear that fu was what the successive owners of the mansion, some of whom were overshadowed by the fame of this place, had always wanted. Yet fu had proved to be elusive, at least for those whose personal fortunes were contingent on emperors' goodwill, as well as for those caught in the vortex of their times.
The construction of Prince Gong's Mansion, occupying 60,000 square meters, was believed to have begun around 1776, more than 70 years before it got its current name. The first owner of the grand abode - so grand indeed that it eventually contributed to its owner's demise - was Niuhuru Heshen (Niuhuru is the Manchu surname of the man, more widely known simply as Heshen.)
Heshen has gone down in history as someone corrupted by power and greed, and is often portrayed in Chinese period dramas as a cunning, plump and slightly hilarious man with a flair for flattery. Cunning, for sure; plump, no way!
According to the official history of Qing, Heshen in his early days was handsome and hard-learning, attentive and alert. With a knack for sensing what his master wanted and an aptitude to satisfy that wish, the young officer soon earned the favor of Emperor Qianlong (1711-1799), favor that proved to be lasting.
For more than a decade before the emperor's death, Heshen was the most powerful man at the Qing court, effectively in control of the state's military and finance, as well as officials' promotion and demotion.