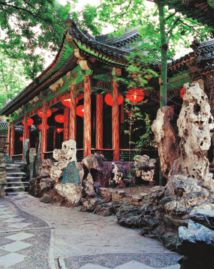 [Photo provided to China Daily]
On Heshen's death, the compound was partly handed over by Emperor Jiaqing to his younger brother Aisingioro Yonglin (Aisin-gioro is the royal family's surname). But Yonglin, known for his hedonism, had to share it with Heshen's eldest son, who, thanks to his marriage to the princess, Jiaqing's youngest half-sister, was spared from prosecution.
The princess died in 1823, 13 years after her husband's death in 1810 and three years after the death of Yonglin in 1820. After that the mansion was inhabited by Yonglin's offspring until 1850.
In 1850 the mansion, having slipped gradually into disrepair, was given by the then reigning EmperorXianfeng (Xianfeng was the grandson of Emperor Jiaqing.) to his brother Aisin-gioro Yixin, a former contender for the throne whom Xianfeng believed needed appeasement.
Gong is the royal title for the prince, meaning being respectful and dutiful. Thus the place became known as Prince Gong's Mansion. Remaining in the center of power - and power struggle - for the next 48 years, Prince Gong had enough time and money to put on a renovation, one that restored to the mansion its long-lost splendor.
But splendor was no more for the ailing empire. Within those years the Qing Dynasty, first founded in 1644, suffered miserably and humiliatingly at the hands of the Western powers. Battles were fought and lost. As a result, unequal treaties were signed and in many cases - the Treaty of Beijing signed by China and Britain and China and France is an example - Yixin, or Prince Gong, was the one in charge of the negotiations.