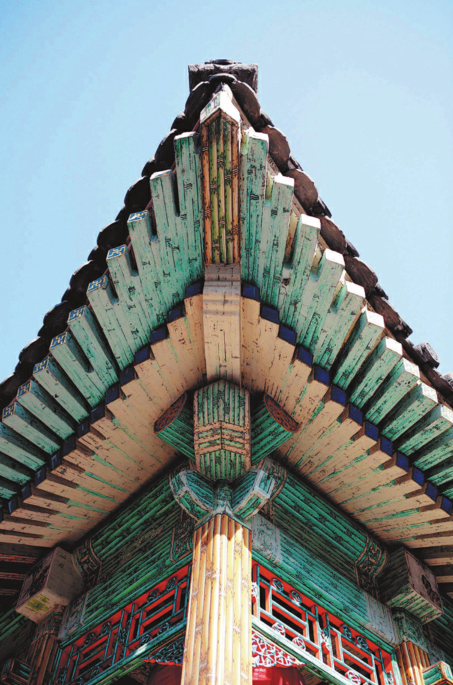 The bat hall viewed from different perspectives. [Photo provided to China Daily]
Speaking of finance, Heshen was reputed for finding ways to finance Emperor Qianlong's extravagant trip to southeastern China without having to draw a penny from the state coffer. The local governments and businesses along the trip's route paid for it, presumably thanks to Heshen's cajolery and coercion.
The man was utterly resourceful in amassing personal wealth, the scale of which became clear only after his fall from grace.
Around 1776, construction of Heshen's new residence, which was to become Prince Gong's Mansion, began. At the time Heshen was merely 26 yet already a rising political star. The work took nearly a decade to complete and the result was a regally designed, sumptuously realized residential compound that covers 60,000 square meters. It would have lived up to any comparison with the residence of a real court prince at the time.
Heshen lived there for 11 years, together with his eldest son, who married the youngest and most beloved daughter of Emperor Qianlong.
In February 1799 Qianlong died. (Officially, the emperor had handed the crown to his son, Emperor Jiaqing, three years earlier. But the old man loosened his grip on power only at the very last moment of his life.) Fifteen days later, Heshen was imprisoned and forced to commit suicide by Emperor Jiaqing, on multiple charges topped by corruption. (His total personal wealth was estimated at nearly 15 times that of the Qing court's annual income.)
The grand abode, once a sign of royal favor, ultimately only served to bring him shame. According to Heshen's accusers, the arrangement of one room inside closely resembled that of a palace in the Forbidden City, the royal residence for successive Qing emperors. And that was considered a serious transgression.