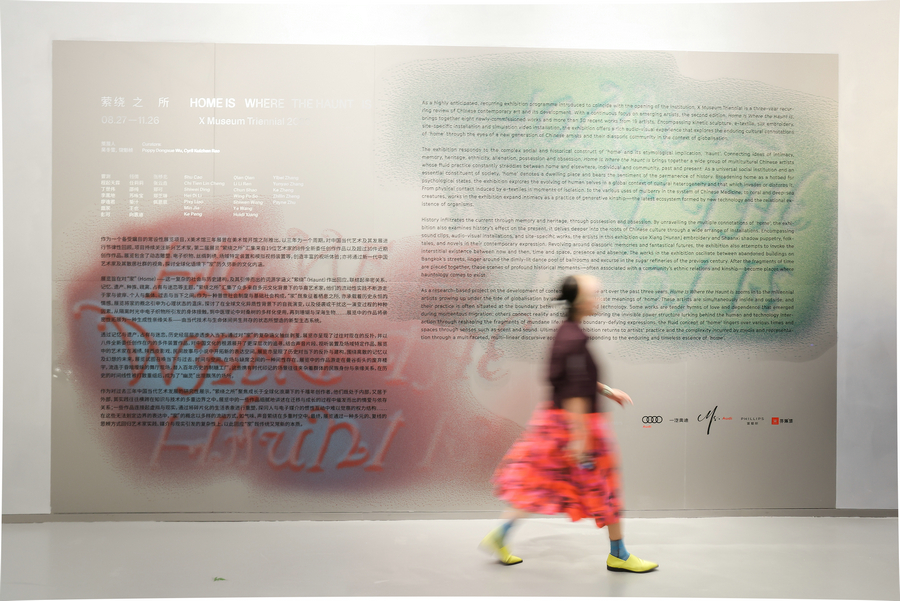 Hot on the heels of X Pink 101, X Museum's inaugural exhibition at its new location in Langyuan Station, the three-year-old art museum launched its second triennial Home Is Where the Haunt Is on Saturday in Beijing.
First held in May 2020 as the museum opened its doors, X Museum Triennial is an exhibition program that offers a three-year recurring review of Chinese contemporary art and its development with a focus on emerging artists, according to Wu Dongxue, the institution's chief curator who curated its inaugural triennial.
The triennial's second edition, co-curated by Wu and Rao Kuizhen, the museum's director of public programs, features eight newly commissioned works and more than 30 recent works from 19 millennial artists. On view is a rich mix of mediums, including kinetic sculpture, e-textile, silk embroidery, site-specific installation, and simulation video installation, offering the audience a multi-dimensional museum experience.
Themed Home Is Where the Haunt Is, the exhibit responds to the complex social and historical construct of "home" and "haunt", which share the same etymological root in many languages, noted the curators.
A universal concept and an essential constituent of almost every society, home is a vessel that holds intimacy, memory, heritage, possession, obsession and many more things, according to Wu.