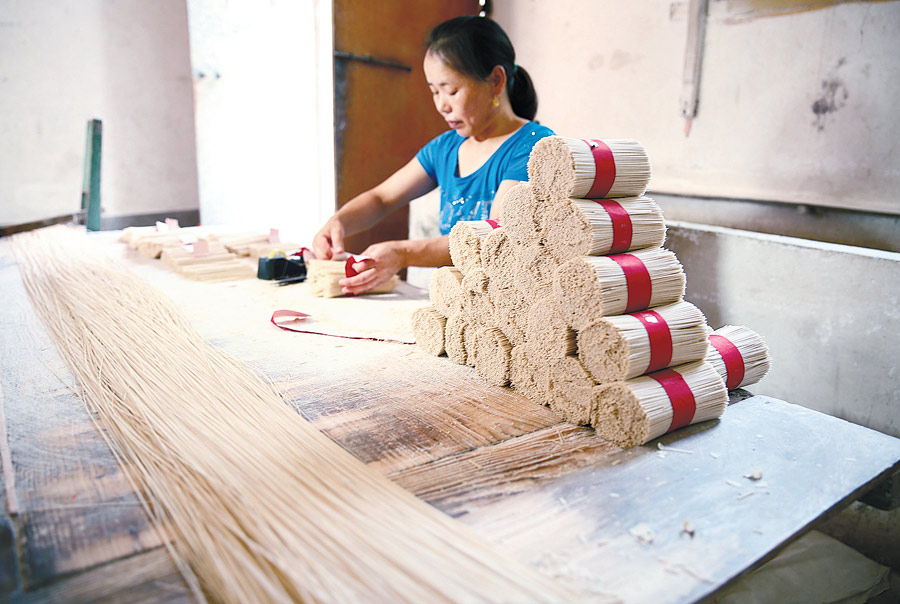 Bolstering local economy
His commitment to the noodle has contributed to it being named a time-honored brand by Henan's Department of Commerce in 2015, and its craftsmanship a provincial intangible cultural heritage by the Henan government in 2021.
Liu's business yields 3,000 tons of hollow noodles annually, but after more than two decades at such pace, he began to start feeling his age, and in 2014 decided to pass it on to his son, Liu Honglei.
"At first, I wasn't very interested in making the noodle, but after trying it once under my father's guidance, I gradually took to it," Liu Honglei says.
He remembers how his parents used to stay up all night with the lights on to make noodles.
"Now that I've learned it, I appreciate this traditional craft even more," he says, adding that he has better understood his father's efforts after experiencing the hardships of making the noodle himself.
Liu Honglei has leveraged his youth to help his father's business to break into e-commerce. He started selling the noodle online in 2015, and it was added to the virtual shelves of e-commerce platforms JD and Tmall in 2018.
Online sales now generate nearly 20 million yuan ($2.9 million) in annual revenue, accounting for a quarter of the total.
The booming business has also benefited villagers.