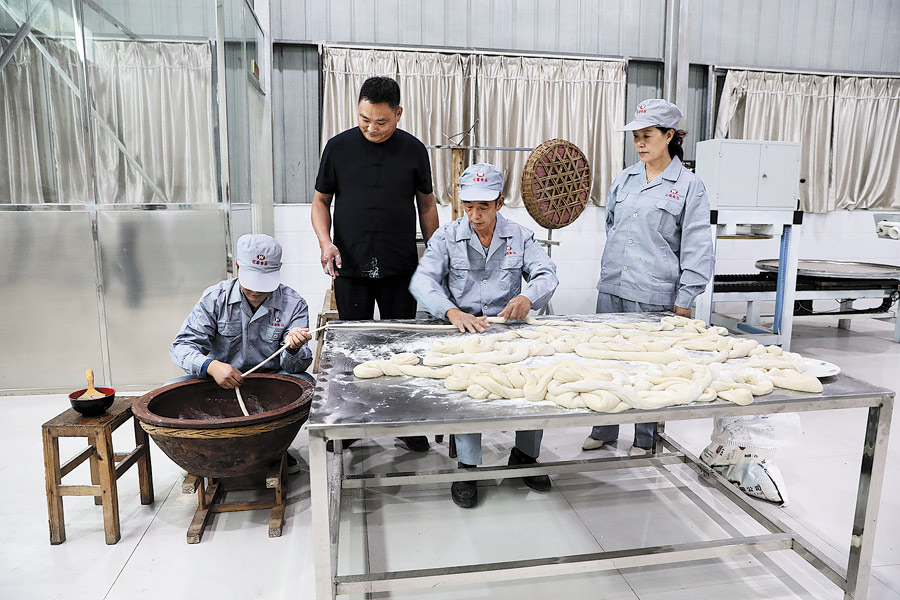 Since 2017, it has paired employees up with impoverished households from the local community, offering free training to hundreds.
It adopts a family workshop-style production approach, in which raw material is distributed and the finished product is then collected, adding between 20,000 to 30,000 yuan to the income of each household, according to Liu Laiwang.
Local government has also given support to hollow noodle development and encouraged it to boost residents' income, and others have followed Liu Laiwang's path, starting up their own Huangchuan hollow noodle businesses.
In 2020, the Zhengzhou University of Light Industry was invited to host an intangible cultural heritage study and training program at Liu Laiwang's factory compound.
The program has offered tips on product packaging design, online sales, marketing, livestreaming and brand image development for more than 20 hollow noodle production enterprises and cooperatives in Huangchuan county.
"It has helped our noodles reach a wider market," Liu Laiwang says.
To date, more than 2,000 locals are employed in the noodle business in Huangchuan, with annual output value reaching 600 million yuan, according to local authorities.
Liu Laiwang's intangible cultural heritage workshop has been selected as one of 66 exemplary cases supporting rural vitalization by the Ministry of Culture and Tourism, the Ministry of Human Resources and Social Security, and the National Rural Revitalization Administration.
These accolades have given Liu more motivation to carry on his cause.
"Our strategy is to adopt a gradual development approach, focusing on being small yet specialized, refined and strong," Liu Laiwang says.
"We aim to preserve and improve our traditional industry and the products that are deeply rooted in our community, making contributions to poverty alleviation and economic prosperity," he says.