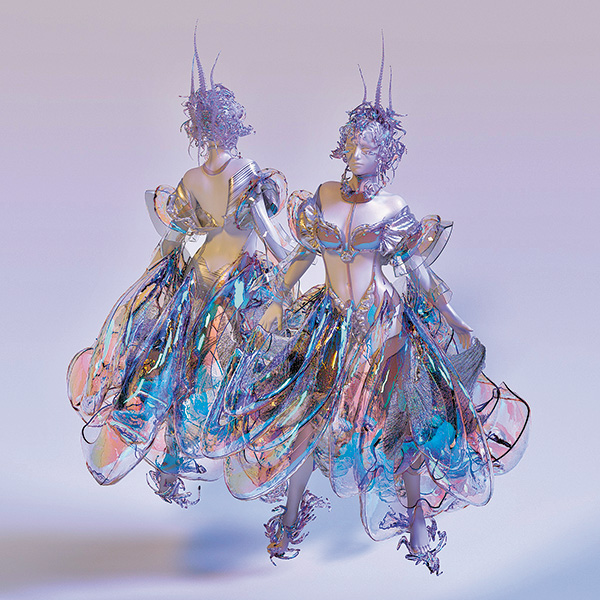 Promising future
The metaverse, with all of its potentialities, has also proven a challenge to govern, and problems have appeared like real estate speculation, virtual currency scams and copyright disputes.
According to Morgan Stanley,Chinese regulators are "increasing focus on minors' addiction, personal information protection, data security, and openness of ecosystem", though mainstream adoption of the metaverse will "take a long time, given major technological and regulatory hurdles."
Designers and entrepreneurs in the digital fashion world agree that,since the industry is in its infancy,and given that there are relatively few cost or technological barriers to becoming a digital fashion designer,more regulation is necessary to guarantee high quality and good services. However, they remain optimistic about its future.
Xing Ziqi, co-founder of London-based brand Xtended Identity -which aims to extend human identity beyond traditional limitations in an innovative, boundary-free way -says that "the global pandemic starting in 2020 made digital fashion mainstream, and we have been creating digital fashion in the metaverse since then. From my observation, digital fashion is a hot concept in China, welcomed by customers and designers".
She predicts that in the future,everybody will have digital clothing displayable on social media, in video calls, at online conferences and in other virtual scenarios.
Fashion is the most widely adopted digital commodity not only in China, but across the world, according to a study conducted last year by Virtue Worldwide, a creative agency owned by American-Canadian digital media and broadcasting company Vice. Virtue Worldwide's survey of 3,000 consumers found that virtual goods are no longer considered niche purchases. A total of 94 percent of respondents see digital fashion becoming mainstream.
Nor are digital pieces restricted to the low-end market. Some are going for prices these days that rival those of the haute couture fashion world.Last year, Xtended Identity sold a dress on virtual goods marketplace The Dematerialised for $6,100.
Designers have grand, science fiction-esque visions for the future of digital fashion. Xing Ziqi and her co-founder Xing Yunjia predict that digital and physical fashion will eventually intermingle. They call this "phygital".
"It refers to a garment that consists of digital parts and physical parts that form a complete look,which will be the key innovation in our next collection design. The beauty of combining the digital and the physical is that it pushes people's fashion experience beyond reality,"says Xing Ziqi.