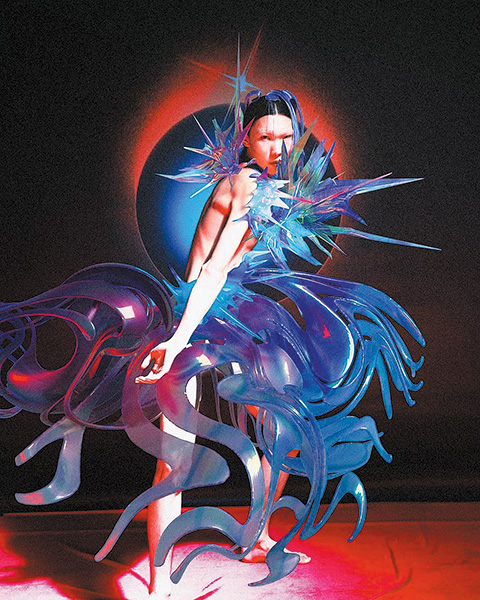 Morgan Stanley, a United States investment bank, predicts that by 2024, industries that operate in virtual space will hit a value of $8 trillion in China. In a recent report, it stated that "the metaverse will be the next generation platform to replace mobile internet".
The concept of the metaverse refers to a network of virtual places linked to a virtual universe, in which people can interact via various forms of virtual technology,including virtual reality and augmented reality.
Companies in China are responding in force to the new opportunities presented by these technologies. During the Spring-Summer China Fashion Week in September, sportswear brand Anta and tech giant Baidu launched a virtual fashion show, displaying Anta's latest gear.
Social media platforms like Xiaohongshu and Bytedance have also entered the field. Via R-Space, a digital shopping platform, Xiaohongshu users can shop for virtual garments and accessories. Bytedance launched Pheagee, a digital fashion community, early last year.It carries virtual clothing collections from 28 domestic brands.
Customers can not only browse but also try on digital clothes through augmented reality. After paying for digital items on these platforms, they can send a picture of themselves and wait to receive a photo in which they are wearing the virtual pieces. The photo can then be posted on social media.
Prices are customer-friendly, ranging from a few dozen to a few hundred yuan. The designs Miao sells on R-Space usually cost 89 yuan($13.12) for two photos.
Digital fashion is here to stay, satisfying increasing demand for self-expression online. As one Xiaohongshu fashion blogger,named Kira Qiya, explains in a post to her 113,000 followers, "by getting rid of all the rules of reality and the limitations of textiles, digital fashion has opened a brand-new world for my wearing experience".
She owns 54 virtual clothes and accessories on R-Space, including an iridescent dress with butterfly wings, a shimmering tutu which makes her look like she is wearing water, a futuristic headpiece and a handbag with a beating heart.