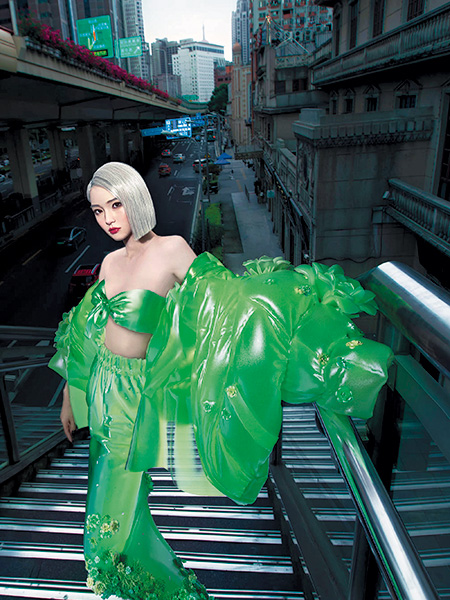 Going virtual
After COVID-19 put face-to-face activities like shows on hold, an increasing number of designers turned to the metaverse as the place to display their collections.
Designer Chen Peng, who founded his namesake brand in 2015, collaborated last year with digital artist Uv Zhu, releasing a digital fashion collection consisting of six super-sized puffer jackets, intended to provoke thought as well as sales.
"In this collection, we try to discuss what clothing will look like in the metaverse and what its function will be," Chen says, adding that in the metaverse, clothing becomes a part of a person's body, like skin or muscle, growing with them over time.
"It is different from traditional clothing, which is used for warmth and modesty, in that designers can focus purely on visual effects and design expression," he says. "It can help designers be more creative and artistic."
The pieces in Lemuria, a digital collection of Chen's displayed on Pheagee, sell for 599 yuan each. His style is much the same in his physical and digital designs. He defines it as "one-sized fashion", speaking for all body types.
Chen urges designers to try new methods to lure the younger generation and prepare for the future. He is considering participating in the upcoming Metaverse Fashion Week on virtual reality platform Decentraland, set to be held in late March.
Chen is just one of a new generation of virtual artists from China who have made their mark in the digital fashion industry.
Sun Fanrui started her exploration in digital fashion in early 2020 while studying for a bachelor's degree in fashion at the Lu Xun Academy of Fine Arts in Northeast China's Liaoning province. Last year, she enrolled in the Royal College of Art in London for a master's degree in fashion. Her whimsical digital creations are popular on overseas digital fashion platforms,such as XR Couture and Xtended Identity.
"In digital fashion, designers can create unlimited designs in a fast and easy way," Sun says. "In today's world, people like to express themselves through different mediums.Virtual clothing provides a new form of self-exploration and self-presentation in cyberspace."
Her virtual designs are inspired in large part by ocean animals, and look alien and ultramodern. In her eyes, digital fashion opens up new possibilities.
Sun, with a background in traditional fashion design, says digital fashion has helped her to push the boundaries of textile and structure.She hopes to transfer the insights gained to her real-world fashion designs.
"With the rise of digital fashion,more and more are joining the industry, more work will be displayed and everyone will have a chance to write the new chapter of digital fashion together," she adds.
Universities and design schools are busy preparing the new generation of fashion designers for this exciting frontier. In November, the first China Metaverse Fashion Design Competition was launched in Wuhan, Hubei province. Developed by tech company Zettakit, it featured students from more than 20 fashion and art education institutions.