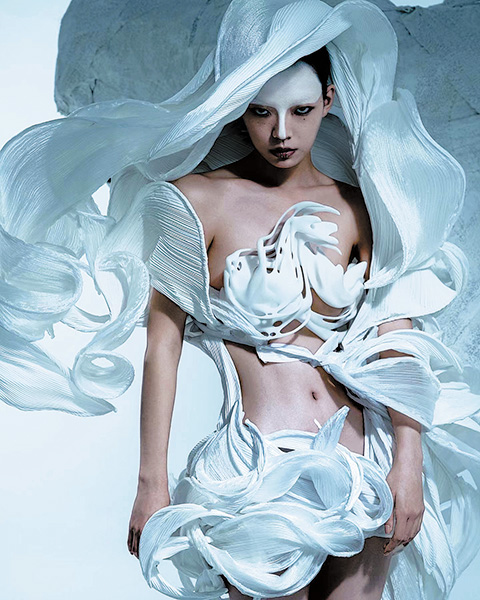 At school, Miao Sheng'ai is a grade 12 student, busy preparing for her college entrance exam; at home,she designs garments that don't exist in the physical world.
The "fabric" she uses is not made with thread, but generated by computer, allowing the 18-year-old Tianjin resident to fully let loose her creativity and imagination. In the digital fashion landscape, rules are made to be broken and gravity does not exist.
"With no concerns about textiles or functional needs, I can focus on the visual aspect of my design," Miao says. She learned to use 3D design software on her own and her unique fashion sense has gained her 19,000 followers on Xiaohongshu, a popular Chinese social media platform.
Already she has garnered interest from an entertainment star. Xu Yangyuzhuo, a member of pop idol group SNH48, recently posted three digitally altered photos on the platform in which she sports Miao's designs.
Digital fashion is gaining in popularity with the tech-savvy younger generation, who live more and more of their social lives online,and influencers and celebrities are following Xu's lead, using the new technology to enrapture audiences.
Digital fashion, still a largely unexplored frontier, has grabbed the fashion industry's attention, and circumstances have also forced a market change. The COVID-19 pandemic, which shuttered or restricted the operations of malls and boutiques around the country,accelerated the pace of digitization.