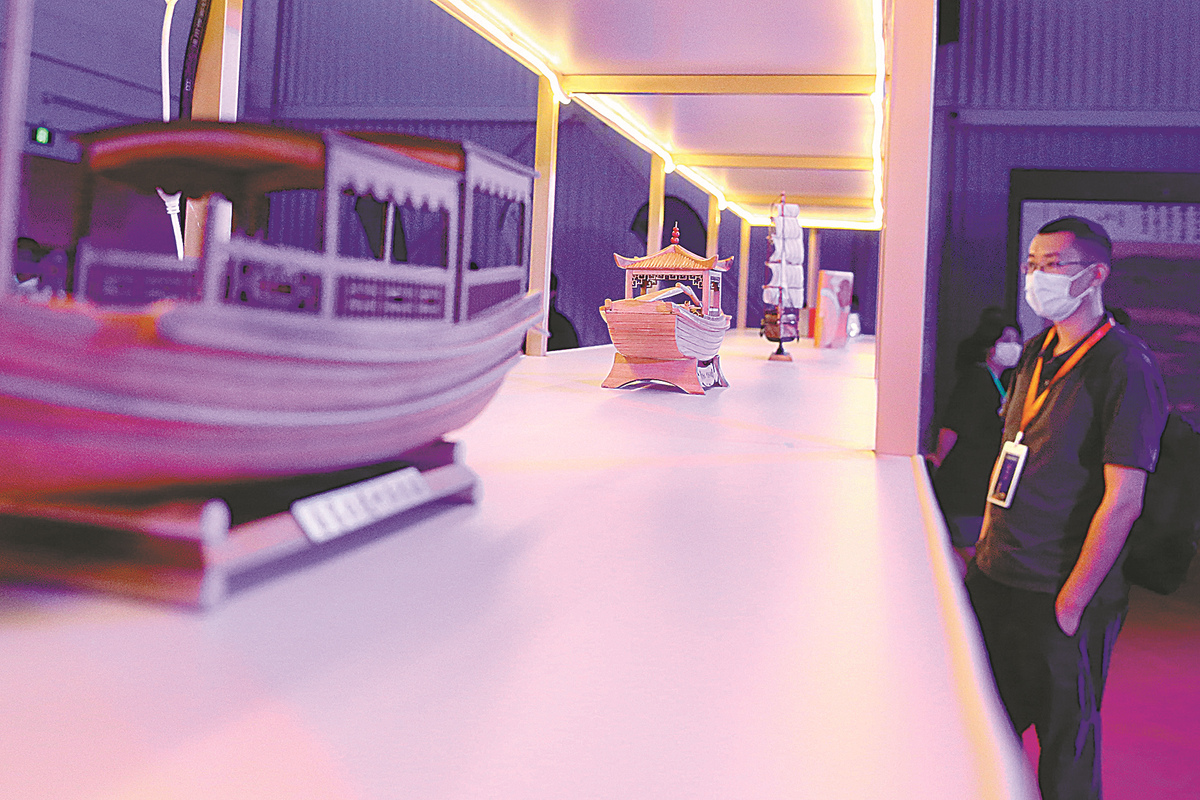 The 2022 Beijing (International)Canal Cultural Festival kicked off in Tongzhou district of the capital on Monday, aiming to share the latest achievements in the protection and construction of the Grand Canal with the public.
The festival is working with a raft of cultural institutions and holding a variety of cultural activities. For example, Changping district is hosting canal-themed light shows and performances. Visitors can take a night cruise and learn about Beijing's intangible cultural heritage and the history of the Baifu Spring, which is the source of the Grand Canal.
To cater to the needs of different groups, the Beijing Bureau of Culture and Tourism, organizer of the festival, has designed 10 routes for people to choose from.
For those who prefer a cruise, one route starting from Pier Rulin in Tongzhou and going to Pier Xianghe in Hebei province and another going from Pier Xianghe to Pier Liuyin in Tongzhou are recommended.
"The first cruise is a journey of 26 kilometers taking three hours and the other is 32 km, passing spots along the canal, which takes three-and-a-half hours. For both routes, the cruise ship is set to go across locks, bridges and a provincial boundary," said a local official.
Another two routes link a string of Beijing's historic and popular sites. Passengers can first take a stroll around the Summer Palace and take a cruise to reach Beijing Zoo and the Beijing Exhibition Center. If they want to discover a vibrant nightlife scene or the finest shopping destinations, they can walk from Taikoo Li Sanlitun, a fashion hub in Chaoyang district, to the banks of the Liangma River throbbing with leisure activities.
"Routes to museums in Tongzhou, ancient ruins and an old university building located in Dongcheng district are also options for many. They tell the true story behind the Grand Canal," said a local official.
With a cycling resurgence across the capital in recent years, a 7-km bike route was carefully designed for a great ride. It starts from the Luhe Taoliu site in Tongzhou and ends at Gantang bridge. "We recommend taking two to three hours to cruise through the beautiful landscapes along this route," added a local official.
Teaming up with Universal Beijing Resort, the festival offers theme park guests a way to take in relaxing night views of the canal after a day of thrilling rides in the resort.
In addition, the fertile land and clean waters of the Grand Canal have nurtured a variety of fruits and vegetables along its banks. There is a route for those want to pick fruit or spend their holiday at farm stays, which is suitable for seniors and families.