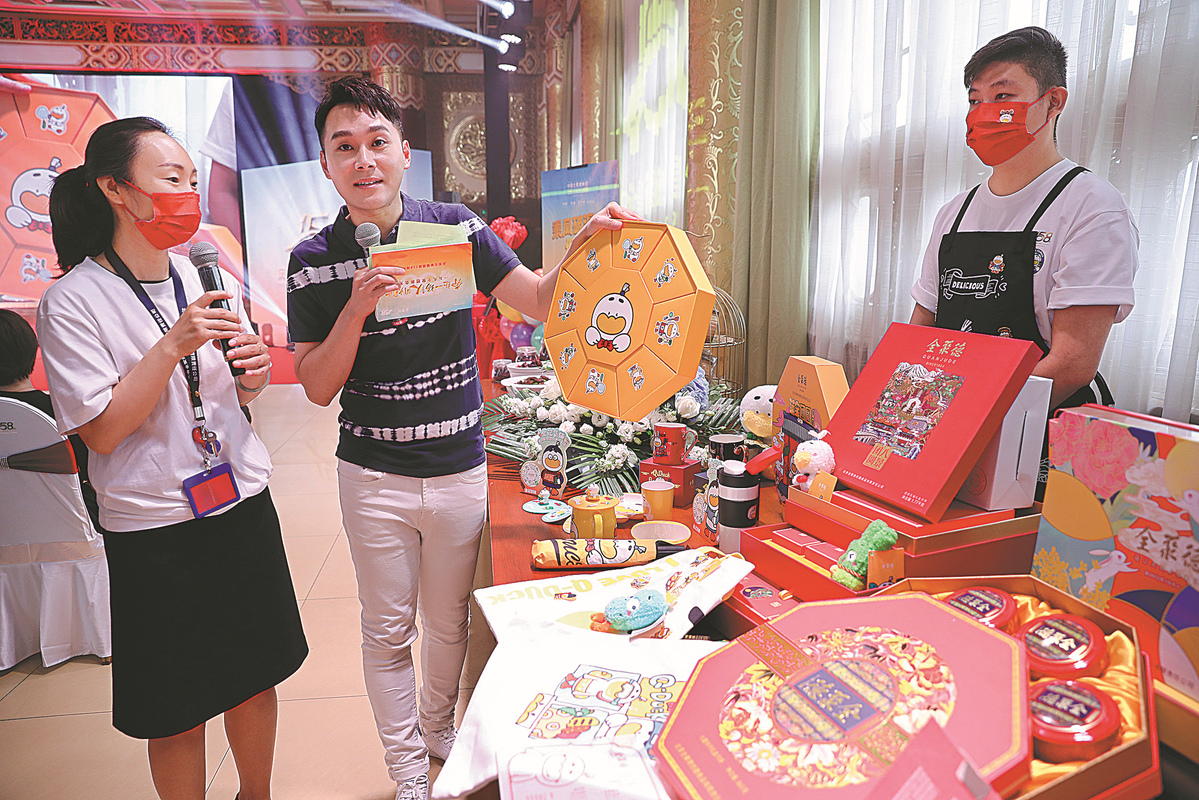 Century-old restaurants refreshing product ranges to broaden appeal.
When speaking of Xianheng, the first thing that comes to Chinese people's minds would probably be Kong Yiji, a character from the short story Kong Yiji by Lu Xun, a pioneer of modern Chinese literature. Kong often orders beans flavored with aniseed at Xianheng Restaurant.
Now, the more than 100-year-old restaurant in Shaoxing, East China's Zhejiang province, has added milk tea to its menu to attract young consumers.
The restaurant also publishes videos on social media platform Xiaohongshu. In the videos, the restaurant's chefs teach viewers how to make seasonal dishes.
In recent years, some traditional food and beverage brands have been getting increasingly creative and playful to keep young consumers interested.
"For time-honored companies to maintain enduring appeal, they must have their own unique cultural advantages," Lin Qiong, general manager of Xianheng Restaurant, told Beijing-based People's Daily.
Shanghai Yuyuan Group, which owns time-honored restaurant brands such as Songhelou and Dexing, has launched semi-cooked food packages featuring signature dishes from the classic brands to cater to young professionals who are often too busy to prepare meals themselves.
Zhang Jun, assistant to the president of Yuyuan Group, told local news outlet Shanghai Observer:"Purchasing partially prepared dishes through easy-to-use online channels may be able to kindle young consumers' interest in classic cuisine, strengthen their emotional connection with time-honored brands and help bring them to physical stores."
Quanjude, an iconic Peking roast duck restaurant established in 1864, has used a twist of innovation to stay relevant among young diners.
"I didn't expect Quanjude, which has a history of more than 150 years, to be able to offer so many new things that young people like," Li Yuan, a young Beijing resident who recently dined at Quanjude, told People's Daily.
Quanjude's 2022 menu combines traditional and modern cuisine, making it more suited to young people. It features 12 innovative dishes and a new desserts and mixed-drinks section.
In April, the brand's Qianmen store opened a dining hall that features holographic projections. Consumers are treated to an immersive dining experience as they enjoy Peking duck surrounded by projected animations of different locations in Beijing.
Going digital is an important way for time-honored brands to connect with modern-day consumers.
Emei Restaurant, a time-honored brand from Beijing, has sped up its digitalization since the outbreak of COVID-19.
"Food and beverage companies need to embrace digitalization,"Zhang Yuming, general manager of the restaurant, told People's Daily.
He said digitalization can not only reduce costs but create more consumption scenarios. He added that income from the restaurant's takeaway business now accounts for nearly a third of its revenue.
Some time-honored brands outside the food and beverage industry are exploring ways to attract customers by pleasing their taste buds.
On Aug 6, Neiliansheng, a well-known shoemaker founded in 1853, announced the opening of its coffee shop.
Liu Yanxi, who heads the coffee team of Neiliansheng, told The Beijing News: "In the process of creating the coffee brand, we focused on quality products, good services and brand innovation, which aligns perfectly with Neiliansheng's spirit featuring exquisite craftsmanship and quality materials.
"As a member of the post-1995 generation who believes in the spirit of time-honored brands, I want to create new products, services and experiences for Neiliansheng and help it connect with Generation Z through coffee and tea," Liu said. Gen Z refers to people born in the late 1990s and early 2000s.
Tongrentang Group, a renowned traditional Chinese medicine pharmacy, has launched herbal coffee to tailor to an increasingly health-conscious youth.
The country has been stepping up policy support for time-honored brands. In January, the Ministry of Commerce and seven other government agencies issued a set of opinions on how to promote the innovative development of time-honored brands.
It proposes that "a digital museum for time-honored brands" be set up for housing and exhibiting the materials that document their history.
A "carnival of time-honored brands", which features both online and offline promotional activities, is also proposed in the document.