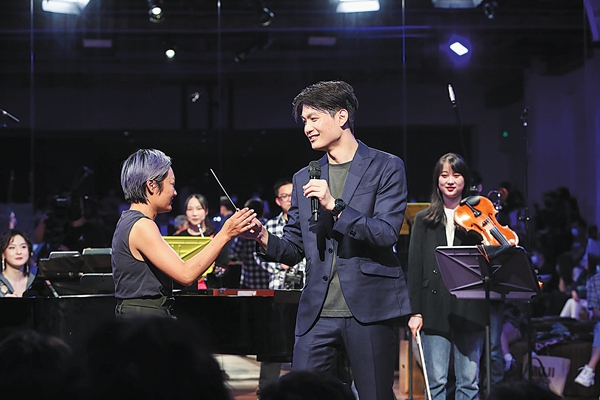 Young conductors stole the spotlight at the Music in the Summer Air festival that took place in Shanghai late last month.
Founded by Yu Long, the music director of the Shanghai Symphony Orchestra, the festival has taken place for 13 consecutive years. With Yu absent for the first time this year due to travel complications arising from the COVID-19 pandemic, Zhang Lu, 36, took over the baton for the opening concert, which was livestreamed on July 20. The closing concert on Saturday was conducted by 28-year-old Sun Yifan.
The youngest conductor at the festival this year was Jin Yukuang, a 22-year-old student at the Shanghai Conservatory of Music.
On July 22, Jin and his Neo-Classica Chamber Orchestra presented a program of less familiar pieces to Chinese audiences: Russian composer Alfred Schnittke's suite in old style, with a new arrangement by Jin; Italian musician Ottorino Respighi's suite for flute and orchestra, publicly performed on the Chinese mainland for the first time; and Italian composer Antonio Vivaldi's Four Seasons, which was recomposed by British composer Max Richter.
Jin and his musicians, many of whom are his schoolmates at the Shanghai Conservatory of Music, "brought fresh sounds and the emotional influence of the long-lost experience of live music", one audience member, present for the show, says.
Last year, Jin finished as the runner-up of two major international conducting competitions that were held in the same month.
He was the first Chinese to win the Khachaturian International Conducting Competition and the Only Stage International Conducting Competition.
He was also the youngest contestant in both events.
"I was confident because I had been studying conducting for seven years, which means I have more experience than many other contestants."
Jin was a bass singer in a students' chorus in Hangzhou, Zhejiang province, when the director of the chorus saw potential in him and suggested that he apply to the middle school affiliated to the Shanghai Conservatory of Music to study to be a conductor.
He went on to study at the music school where he received guidance from renowned conductors, including Zhao Xiao'ou, Zhang Guoyong, Lin Daye and Yu.
Thanks to the Spring Birds Project, initiated by Yu and the Shanghai Symphony Orchestra, Jin and his Neo-Classica Chamber Orchestra, which was founded in 2020, had the opportunity to hold concerts and take part in music festivals all over China.