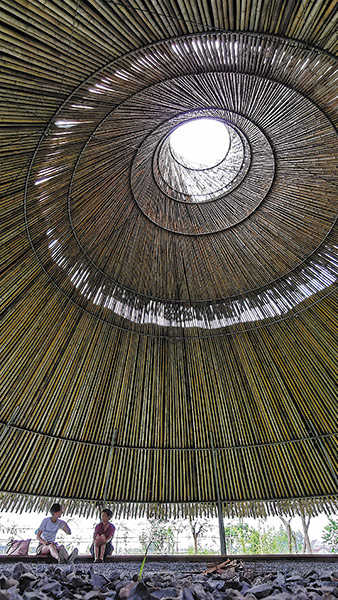 Farmer's love for the countryside, along with his background in architecture, transform part of Chongming Island into an oasis of tranquility, Xu Xiaomin reports.
While many people have been cranking up their air conditioners to deal with the ongoing heat wave in Shanghai, Xiong Feng and his family have managed to stay cool without having to use any such device.
His answer: nature and architectural design.
Like most farmers on Chongming Island, which is located at the mouth of the Yangtze River and more than one hour's drive from downtown Shanghai, Xiong grew up learning how to till the fields and plant crops. He says it is natural to sweat in summer.
But the 46-year-old also has a background in architecture and interior design-and this is prominently showcased on his 12,000-square-meter farm. A towering, pyramid-like structure made of bamboo and reed makes his farm stand out from the rest. Dubbed the "rice field theater", this structure was designed to draw cool air from the surrounding fields while allowing hot air to rise and dissipate through the hole at the top, according to Xiong. Besides using this space to host family gatherings and visitors, Xiong takes his afternoon naps there.
"The secret to stay cool without an air conditioner is managing the air flow," he says.
The same principle applies to his living quarters in the farm which he named "camp". Unlike other farmers who often use air conditioners to beat the heat, Xiong relies on a row of ball-shaped stainless steel roof fans that have been strategically positioned so they spin due to the influx of air from outside the "camp". This approach, he says, is not down to cutting costs.
"Nature is my teacher and my provider. I want to give my family a living environment that is based on harmony between people and nature," he adds.