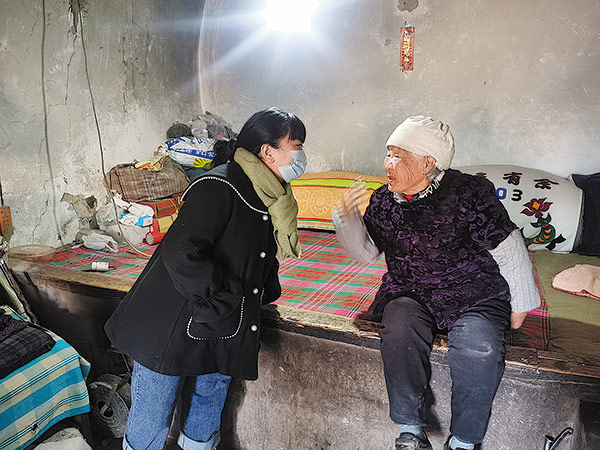 Former salon worker in Tianjin dedicates years of her time and the bulk of her salary to helping children in need in remote areas of Guizhou, while encouraging others to follow suit, Zhang Yu reports.
Of her own volition, and without hesitation, Liu Huimin headed to a mountainous area to complete a wish, resembling Zhou Rong, the lead character of the popular Chinese TV series A Lifelong Journey this year, who did something similar.
While the fictional character left her love behind to teach poor children in Southwest China's Guizhou province, the 32-year-old Liu went to see if children, also in Guizhou, were as pitiful as described in news she had read in 2012.
"I would occasionally read news saying that some 'left-behind' children in mountainous areas lived very poor lives, many even wore shoes with holes in," Liu recalls. "If that was true, I wanted to help."
Although the then 23-year-old was only an ordinary migrant worker, she couldn't believe that, in modern times, children could still live like that.
Back then, Liu worked at a hair salon in Tianjin, a city neighboring her hometown of Xianxian county in Cangzhou, Hebei province. Her salary was about 4,000 yuan ($600) a month. "For months I was haunted by the news."
At the end of that year, after buying a round-trip ticket, she embarked on a journey to Guizhou, about 2,000 kilometers from Tianjin. The girl had never been to a place that far away on her own.
After an arduous journey, she arrived at a poverty-stricken township in Hezhang county, Bijie, which had been mentioned in the news she had read.
"It was late winter, and I saw children wearing layers of thin clothes trying to keep warm, with their toes peeping out of their worn-out shoes." Liu couldn't forget what she saw. She went to several villages and spoke with the locals. "Many places in Guizhou were like this." Her first visit to the area confirmed that what she had read was true.
She finished her short and hastily arranged trip and returned home to resume work at the hair salon. However, she couldn't stop thinking about the children and wracked her brains thinking of a way to help with such limited resources at her disposal.
Liu searched online for more stories about the poor children in Guizhou. She picked a primary school and decided to go there. "This time, I needed to do something," she says.
She searched out a phone number of the principal of Shuanglian Primary School in Shangzhong township, Liping county, called him and asked, "What can I do for the school?" The principal replied: "If possible, please send some shoes for our students, used shoes are good enough."
A month later, Liu sent the 175 pairs of new shoes to the school's students. She had paid for them herself and they had cost her more than two months' salary.
"The smile on their faces made it all worthwhile." Liu says, noting that she received some photos the principal had taken of the students wearing their new shoes.
Two months later, when International Children's Day drew near, Liu bought a flight ticket and went to visit the students in person. This time, she took with her some toys and dolls, as well as school supplies.