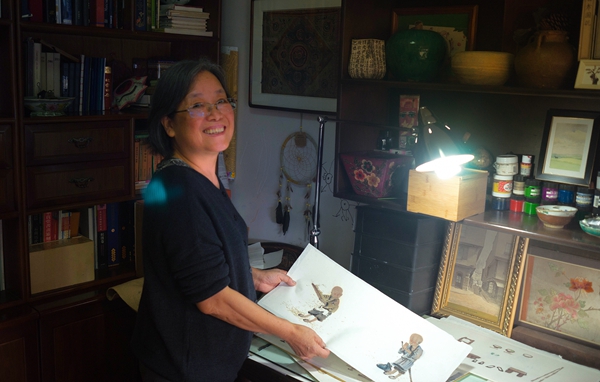 Celebrated children's book illustrator Cai Gao, adored at home and abroad, draws inspiration for her creations from childhood, country life and travel anecdotes, Wang Ru reports.
A memorable childhood spent in the endearing company of her grandmother is at the core of Cai Gao's most amazing picture books for children. The established illustrator and editor recalls with great fondness how her grandmother sang songs inspired by Chinese folklore, and how that became the never-ending source of her visual stories.
"When she'd do some house chores, such as peeling broad beans, she'd often sing softly to herself. I learned about folk tales because of this carefree habit of hers," says Cai, the winner of several coveted awards.
"We were of modest means, but grandma had the remarkable ability to make everything lavishly beautiful with her songs. So much so that we were content even when it was just bean sprouts for dinner," the 76-year-old adds.
Those happy days turned her into an inexhaustible powerhouse of ideas, and the illustrator has since devoted her life toward enriching the childhood of others.
Cai spent nearly 12 years teaching in a remote village in Hunan province. The artistic streak already in her genes, she published her first painting in a magazine during the time. Her picture book journey began in 1982, when she was appointed an editor at Hunan Juvenile and Children's Publishing House.
Taking a trip down memory lane, Cai recalls one of the earliest picture books she was acquainted with at work. The Blue-Eyed Pussy, a book by Danish illustrator Egon Mathiesen, opened her eyes.
"Mathiesen had an active mind and a unique perspective. His drawings, which seemed childlike at first glance, wonderfully captured the sentiments of a cat that was too timid to start a new life," says Cai, who's based in Changsha, Hunan province.
"Gradually, the illustrations in the book become more mature in order to reflect the cat's growing courage. Every child that turns over pages of that book embarks on an incredible journey of knowing oneself better."
Back then, there were many picture books from abroad that were translated and published in China, according to Cai. She confesses she learned a lot from them, but decided to encourage indigenous picture books.