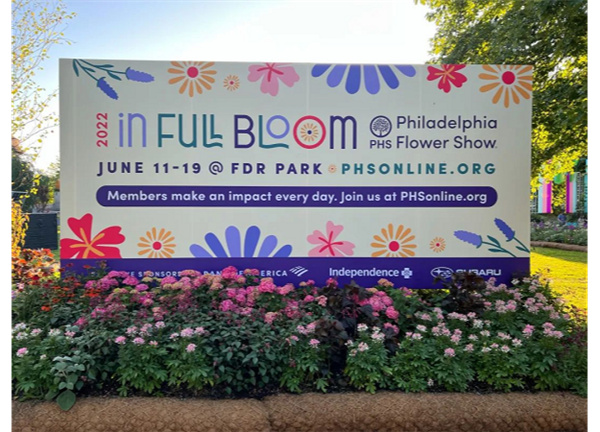 A China Day event was held Friday in Philadelphia, the largest city in the US state of Pennsylvania, amazing the audience with a series of Chinese cultural activities.
Featuring traditional Chinese instruments, a lion dance performance, Peking Opera, a Chinese tea ceremony, a kung fu performance, and promotion videos of East China's cities of Hangzhou and Yangzhou, the event is part of the ongoing Philadelphia Flower Show's first Chinese Culture Festival.
It also incorporated elements of intangible cultural heritage along China's Grand Canal, allowing visitors to fully appreciate the infinite charm of the oriental canal culture.
Chinese Consul General in New York Huang Ping, in his keynote speech at the event, underscored the need for China and the US to join hands to work together, and promote cultural exchange and mutual understanding.
He said the theme of this year's flower show, "In Full Bloom", reminded him of the old Chinese saying, "A single flower does not make spring, while one hundred flowers in full bloom bring spring to the garden."
Comparing China and the US as "two different flowers in the world garden", Huang said that the two countries need to treat each other and appreciate each other as equals, pursue common development, and create conditions for others to flourish and make the "garden" more vibrant.
"The relationship between countries lies in the connections of the peoples, and the connections between the peoples lie in the mutual understanding of hearts," echoed James F. Kenney, mayor of Philadelphia.
David Briel, deputy secretary at the Office of International Business Development, the Pennsylvania Department of Community & Economic Development, told Xinhua at the event that he was deeply impressed by the charm of Chinese culture, in particular, the Peking Opera performance, adding that this kind of activity can help promote the mutual understanding between the Chinese and American peoples.
"It helps us understand deeper the contributions of thousands of years of Chinese culture to our own culture," he said.
The 2022 Philadelphia Flower Show's Chinese Culture Festival, running from June 11 through June 19, is hosted by the Sino-American Business and Travel Association, co-organized by the Pennsylvania Horticultural Society (PHS), and supported by the Chinese Consulate General in New York.
Founded in 1829, the PHS Philadelphia Flower Show is the largest and longest-running horticultural event in the US.