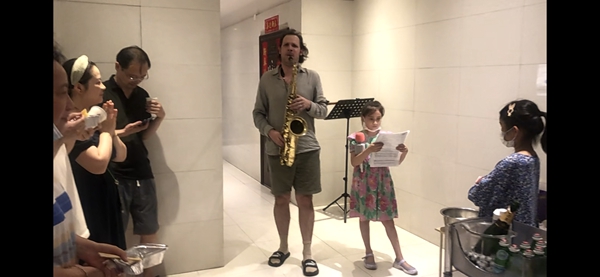 Foreign musicians in the city unleashed their creativity to combat the outbreak blues, Zhang Kun reports.
Despite the lockdown, which forced the closure of many businesses in the past months, musicians never stopped making music and found imaginative ways to share it with the public.
The latest COVID-19 outbreak saw the temporary closure of Jazz at Lincoln Center Shanghai after it held its International Women's Day concert in March. A prime venue for live jazz shows in the city, the center is the only overseas branch of the New York-based music organization. Of the more than 100 musicians who frequently perform with the center in Shanghai, about half are expatriates.
Among these expats is drummer Charles Foldesh from the United States. About a week into the lockdown of Puxi-the western region of Shanghai-that started on April 1, he lifted the spirits of residents in his compound in Hongkou district by holding short drumming sessions on his balcony that lasted from three to four minutes.
Foldesh has lived in the same compound for almost 10 years. His impromptu performances soon made their way to social media where they went viral. On short-video sharing platform Douyin alone, the footage of one session was viewed and liked tens of thousands of times. Xinhua News Agency, CNN and Shanghai-based news portal ThePaper also featured him.
The drummer grew up in a small town in Phoenix, Arizona, and graduated from the Oberlin Conservatory of Music in the US. In 2007, he moved to Shanghai, where he fell in love with the music culture of the city.
Over the past 15 years, Foldesh has occasionally appeared on Chinese TV shows. Last year, he performed in Zhang Yimou's concept theater show 2047 Apologue, which took Foldesh on a tour of five Chinese cities.