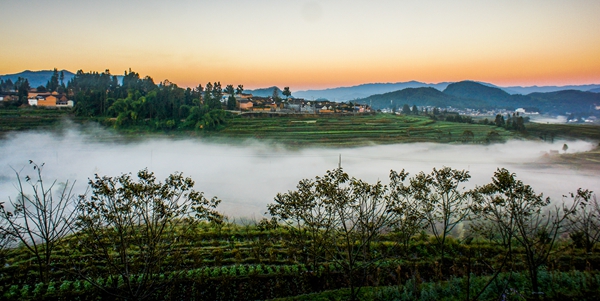 President Xi Jinping's visit celebrates new era for rural community, deservedly reaping the harvest of its work, report Yang Feiyue in Beijing and Li Yingqing in Kunming.
From time to time, Li Fashun will reminisce about the visit of a special guest to his abode in Simola Va village two years ago.
President Xi Jinping dropped in on the farmer, whose home is in the village of Qingshui township, Tengchong city, Southwest China's Yunnan province, at the beginning of 2020. The president learned about Li, his family and their daily lives during an inspection tour to the province and was invited to join them in making rice cakes. Xi also beat a wooden drum of the Va ethnic group three times, a ritual to bless the coming year.
"I wouldn't have dreamed that President Xi Jinping would come to my home, and sincerely inquire about our lives," Li says.
The visit coincided with the year set as the deadline for China to eliminate absolute poverty. During the inspection, Xi noted that shaking off poverty is the starting point for a new and happy life, calling for the vigorous promotion of rural vitalization after a moderately prosperous society in all respects is achieved.
Li was greatly encouraged by Xi's words and, later that year, started a rural catering business, which had been a long-held dream of his.
Li and his wife also sell tea leaves and date cakes.
In the best of times, their business can bring them 100,000 yuan ($15,000) a year.
Li believes that better things are yet to come for his village once the pandemic is fully over.
"The living environment has improved over the past two years, and so has the public observance of social codes," Li says.