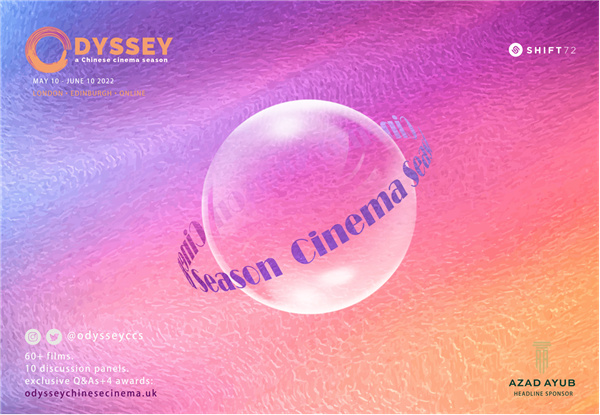 Odyssey: A Chinese Cinema Season, the biggest Chinese film festival of the year in the UK, is held from May 10 to June 10. Collaborating with Picturehouse Cinemas, The Prince Charles Cinemas (in-person) and Shift 72 (online), the festival has created a hybrid experience to reach as many attendees as possible across the UK and worldwide.
Named after one of the most significant works of the Western canon, Odyssey offers a journey through the contemporary Sino-cinematic world. The festival strives to empower the shared appreciation of cinema, drive inclusiveness in the film industry and facilitate cross-cultural communication.
At Odyssey, the latest young Chinese film talents will be introduced to UK audiences, and panels with industry experts, scholars and filmmakers will be held to boost creativity and exchange ideas.
The curation of Odyssey revolves around diverse themes and genres. The screenings range from short films and features to new works by contemporary Chinese artists. Demonstrating a pioneering and artistic spirit, short film programs such as Shanghai Animation Film Studio Retro attempt to break the boundaries between narrative and aesthetics and reimagine cinematography and visual art.
In the feature film section, topics like Women Through Lens and Chinese Regional Cinema showcase the dynamics of Chinese society, culture and aesthetics. All screenings will include a series of Q&As prepared by the curation team and special guests including filmmakers, academics, curators and critics.
Industry-focused panels were the festival's highlight last year and attracted over 500 participants. Now in its second year, Odyssey has prepared 10 new industry topics. From global sustainability to new business models, co-production to distribution, regional cinemas to female film programmers, these discussions will explore film-related collaborations between the UK and Greater China.
The festival will bring about a whole month of Chinese cinema through June 10, with more than 60 films in 8 curated sections, 10 panel discussions and Q&A sessions. Most programs are available online and several pop-up special cinema screenings will appear throughout the festival.