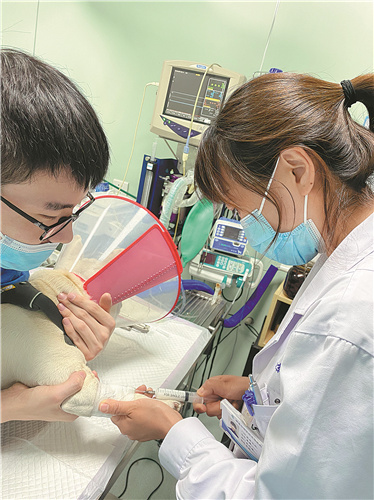 Her father is supportive of her career.
"I urge her to keep abreast of development in the field, and keep a book on hand and read it in free time," Dong Yuenong says. "The industry is upgrading quickly, and if you stay put, you are lagging behind."
Dong Yuenong is still occupied after retiring several years ago. Under her father's influence, Dong Wei has regularly subscribed to veterinary medicine seminars to enrich her expertise. She has managed to give a second lease of life to many pets with kidney problems since her hospital started offering blood dialysis in 2014. Before that, animals with related problems were usually considered "given a death sentence".
"It's like opportunities for me to free more animals from pain," she says.
Speaking about her growth after years of practice, Dong says she's better at connecting the dots and seeing a picture of animal problems. For example, some symptoms like vomiting might indicate more serious problems with the pancreas or liver, if the pet is in senior age, she says.
"The owners will trust you more when their pets get better under your advice, which has also given me more confidence in communicating with them," Dong says.