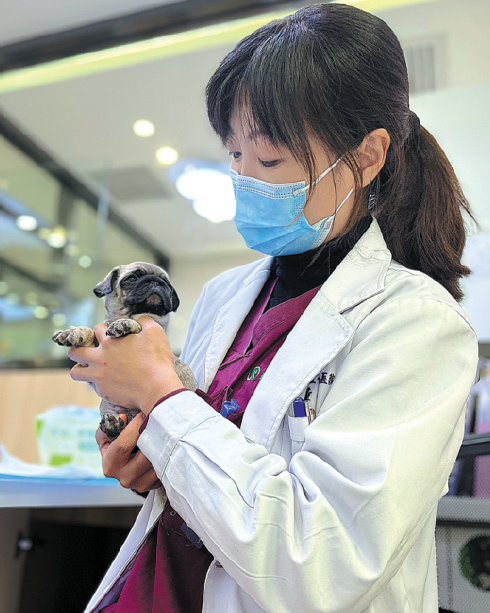 When Dong witnessed an emaciated horse get back on its feet after her father's treatment at a clinic of the China Agricultural University, she found her calling. Dong's father, Dong Yuenong, mainly treated horses and cattle for rural productions in the 1970s, when veterinary medicine was in its infancy in China. As mechanical equipment developed, big animals were replaced and fewer of them showed up at his workplace. Changes happened in the 1980s, when people began to bring in pets for treatment, Dong Yuenong recalls.
Dong Wei followed in her father's footsteps and spent five years studying veterinary medicine at the same university. She has worked at a pet clinic in Beijing's Haidian district after graduation in 2004. She has been honing her skills and updating knowledge in the field since then.
"You have to be on solid ground in basic operations and anatomy," Dong says, adding that actions like ligature of blood vessels require a lot of practice.
"We keep close taps on their breath, tongue color, secretion of tears and saliva," she says about operations on pets. "Every little change might ask for adjustment in a surgery."
Dong says she still feels pressure whenever she is on the operating table. "You have to be fully committed and do your best for every operation, big or small, out of responsibility toward the animals and the trust their owners place on you."
Despite all the challenges, she has never doubted her choice of profession. She often has to work overtime and deals with emergencies in the middle of the night. Some clients send text messages in the wee hours when their pets' problems arise, so Dong never turns off her phone. However, a sense of satisfaction is achieved when Dong manages to overcome challenges. "It is probably the greatest joy in my job."