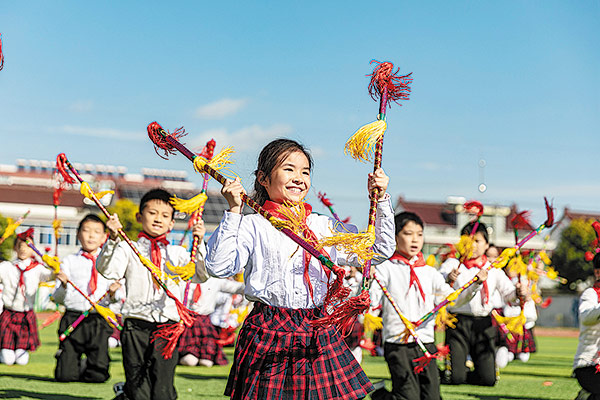 Su Jinghan, an 11-year-old Chinese girl, goes to school with two colorful sticks every day.
The sticks, roughly 40 centimeters in length, called huagun in Chinese, are for physical training at her school in Yinchuan, capital city of Northwest China's Ningxia Hui autonomous region.
When Jinghan dances with the sticks, which are decorated with colorful pieces of silk and small bells, she is performing a kind of martial art, which is accompanied by ringing bells.
Huagun dance is an ancient Chinese folk sports activity, and these days, it is especially popular among elderly people.
Sun Mengchun, the assistant headmaster of the No 23 Primary School in Xingqing district of Yinchuan, says they have made the sticks shorter than usual, so that they are easy to carry.
"It is a combination of dance and wushu (martial arts) moves and mobilizes the whole body. Moreover, it produces an enchanting sound," Sun says, adding that all students in the school have learned to dance with huagun and seem to enjoy it.
Besides huagun dance, the primary school also introduced martial arts, boxing and hip-hop dance to enrich children's physical training during the class break.
"I love this new physical training curriculum. It makes me strong and I can feel the charm of martial arts," Jinghan says.