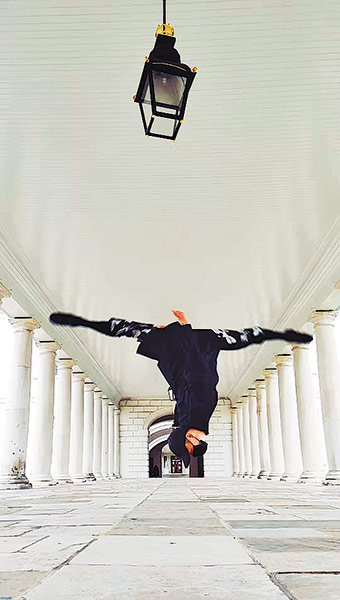 With simulated splits in the air, a man in black jumps high and shows different poses before landing on the ground gracefully. Sometimes, he carries a bright red silky fan while dancing or wears a shirt with long white flowing sleeves, while spreading his arms like wings in the air.
His dance is eye-catching, often attracting crowds that take pictures and ask what he is doing.
He is Chinese dancer-choreographer Ma Jiaolong, who has been making and sharing short videos of himself dancing in London since 2020. He has performed at the city's parks and iconic landmarks, such as Tower Bridge and Trafalgar Square. Ma has nearly 5 million followers on Douyin, a major short-video platform in China, known as TikTok overseas.
"I was surprised because I didn't expect that the videos would go viral. The best part of being recognized is to introduce Chinese classical dance to a wider audience," says the 35-year-old.
Chinese classical dance, the veteran dancer says, blends movements of martial arts, as well as traditional Chinese operas.
Ma has been teaching Chinese classical dance at Goldsmiths, University of London, since 2019, under a cooperative program initiated by the Beijing Dance Academy.