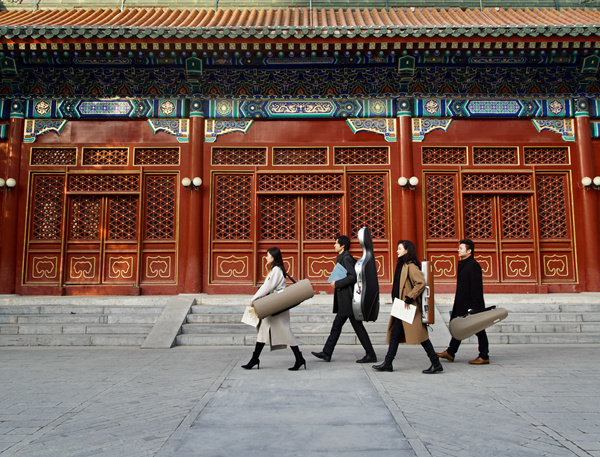 Acclaimed Chinese quartet becomes brand ambassador for well-known German urtext publisher, Chen Nan reports.
Around 2016, Wolf-Dieter Seiffert, a German musicologist, traveled to Beijing and visited the Central Conservatory of Music, one of the country's top music schools.
He went to a bookstore near the school that had a cafeteria inside and sat down for a coffee.
A young man, being curious about the arrival of the foreigner, walked by and started to talk to him. After learning that he was the president of G. Henle Verlag, a noted publishing firm located in Germany and known for its authentic scores of great compositions by the likes of Mozart, Beethoven, Chopin and Bach, the young man, named Qi Wang, who is the violist of Amber Quartet, a Chinese string quartet established in Beijing in 2005, imparted that he was a fan of Seiffert's company.
"He also told me about Amber Quartet and to be honest, I was skeptical about their level of ability," recalls Seiffert, in an online interview with China Daily.
Seiffert then received an Amber Quartet CD as a gift and after listening to it upon his return to Germany, he was amazed by the recording.
Earlier this year, Amber Quartet became the Chinese ambassador of the publishing company.