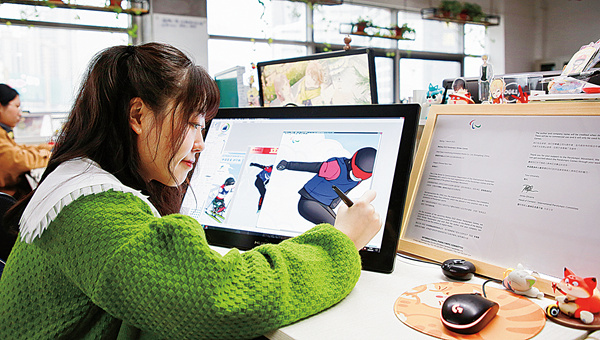 Artist creates comics for Paralympians, Zhao Ruixue reports in Jinan.
While athletes were racing to realize their dreams during the Beijing 2022 Winter Paralympics, Ding Jiao, a physically challenged artist in Jinan, Shandong province, kept a close watch on them, hoping to capture their happiest and most inspiring moments through her comics.
Yet, it was not the first time that the artist focused on the Paralympic athletes.
Ding, who works for Expo Huachuang Animation Media Co, created a series of 96 comics for the Chinese athletes who had participated in the Tokyo Summer Paralympics last year.
These comics were popular and collected by, and forwarded to, a lot of athletes, with views surpassing 100 million on social media, according to the company.
On March 2, the company received a letter from the International Paralympic Committee, inviting Ding to create a comic series for the Beijing Winter Paralympics.
"We learned that Ding Jiao, the original artist of your company, has created a lot of comics about Paralympic athletes and has played a very positive role in the promotion of Paralympic sports," the letter says. "We hope more people will get excited about the Paralympic Games through your work."