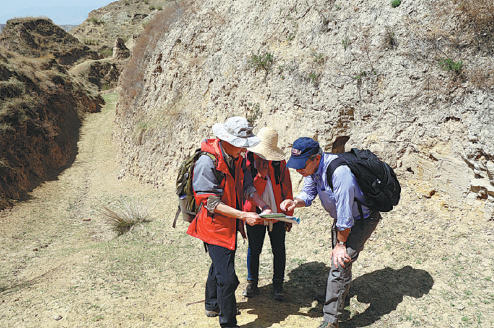 Recently published findings, based on discoveries made in Hebei province, paint a deeper and wider picture of the evolution of ancient craftsmanship and aesthetics, Wang Kaihao reports.
When speaking of Yuxian county, Hebei province, which is about 200 kilometers to the west of Beijing, an enthusiast of Chinese fine art will probably first think of its famous traditional paper-cutting. In centuries past, those red creations portraying auspicious patterns showed the locals' love for life in an artistic way.
But people nowadays looking to refresh their knowledge about this folk art, by expanding their horizon to a much more distant past, may better understand human aesthetics and craftsmanship, thanks to recent archaeological findings, also steeped in red.
Around 40,000 years ago, people lived a hunter-gatherer lifestyle. Nevertheless, in the area that is present-day Yuxian, someone with an eye for beauty might demonstrate craftsmanship by pounding colorful ocher chunks into powder, possibly to use as pigment with which to paint.
In the past few years, a research team, involving archaeologists and scientists from institutions in China, Germany, France and Spain, has concentrated on decoding unearthed findings from the Xiamabei site in Yuxian. The artifacts, which were excavated by the Hebei Provincial Institute of Cultural Relics and Archaeology over 2013-14, are now believed to be evidence that indicates the earliest known ocher-processing workshop in not only China but also East Asia.
News of the discovery and its initial findings was released last week through an article published in Nature magazine.
"This colorful material can be used for symbolic purposes, such as decorating bodies, or for pragmatic uses," says Yang Shixia, a leading researcher in the program, who publicly briefed a conference of the National Cultural Heritage Administration in Beijing on March 3.
Ocher is a variety of a naturally forming clay pigment that was widely used in ancient artworks around the world, ranging from the brilliantly painted pottery of cultures that bloomed across what is present-day western and Central China around 5,000 years ago, to the murals of ancient Rome.