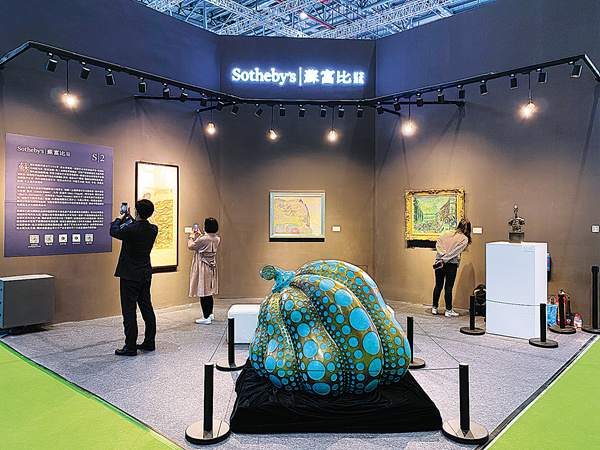 On March 2, Shanghai announced the official establishment of the Shanghai International Antiques and Fine Art Trade Center. The move marks the city's latest step toward its goal of becoming an international trading hub for the sector.
Fang Shizhong, head of the municipal administration for culture and tourism, says, starting this year, a China international cultural relics and artworks trade expo will be held annually from Oct 26 to 28 at the Museum of Art Pudong. It will be the only official international cultural relic and artwork commodity exchange in China.
The city has also pledged to push forward duty-free sales of art and cultural relics at the China International Import Expo every year, as well as accelerate legislation concerning the art and antiques market.
In 2021, exhibitors at the fourth CIIE were permitted to bring five cultural relics without having to pay taxes. The CIIE featured, for the first time, 178 artworks and antiques-with a combined value of 2.3 billion yuan ($363.74 million)-from 11 countries and regions. Forty-one items with a total value of 760 million yuan were sold at the event.
This year, the CIIE will, for the first time, set up a dedicated exhibition zone for art and antiques to further facilitate such sales, according to Fang.
Shanghai, which has 78 auction companies engaging in the trade of antiques, has always been the most vibrant art market in China. In 2020, the State Administration of Cultural Heritage kicked off a series of trial operations in Shanghai concerning the administration of the exhibition, trade and appraisal of antiques.
The new policy enabled international auction houses to showcase and sell works of Western masters such as Pablo Picasso, Marc Chagall and Salvador Dali.