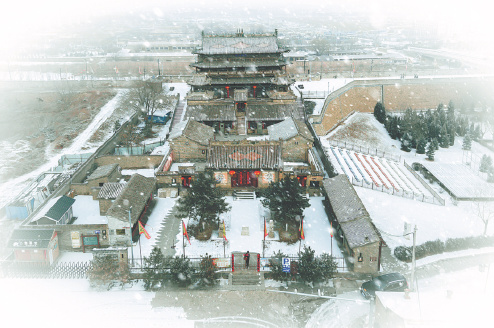 Hebei seeks to turn up tourism with traditional crafts, Xu Lin reports.
Zhangjiakou city in Hebei province, which co-hosted the Beijing 2022 Winter Olympics, is now turning its focus toward tourism.
About three hours' drive from Beijing, Zhangjiakou's Yuxian county is known for its historical sites, cultural heritage and customs.
As a military fortress, the county, called Yuzhou in ancient times, had built various walled villages along the Great Wall during the Ming Dynasty (1368-1644). Soldiers moved there to guard the region from the northern nomadic people and cultivated the land when there was no war.
Today, the surviving villages-once a masterpiece of traditional military defense-have become popular scenic areas for travelers to learn about the culture of "Chinese castles", surrounded by temples, theaters and old residences.
With traditional eaves and elegant carvings of wood, stone and brick, the imposing buildings and courtyards present the best example of Chinese aesthetics. Locals like to watch shehuo, a folk show, and the local opera, Yuxian yangko, which are performed in these villages.
In 2009, Chinese paper-cutting was inscribed by UNESCO as an Intangible Cultural Heritage of Humanity.