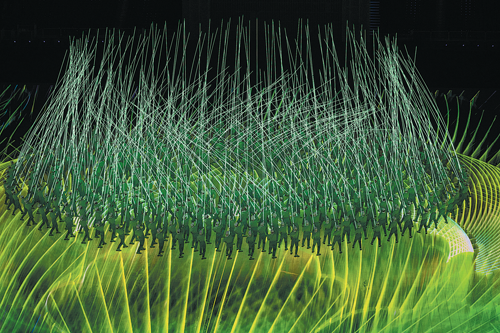 Ancient wisdom divided the year into 24 Solar Terms and they still remain relevant today, Yang Yang reports.
The opening ceremony of the Beijing 2022 Winter Olympics on Feb 4 presented a visual feast, displaying Chinese people's understanding of the Games and the relationship between humans and nature. On taking a closer look, one may find many ingenious designs-the countdown included.
On the Chinese traditional calendar, Feb 4, 2022 happened to be the Start of Spring, the first of the Twenty-four Solar Terms. Director Zhang Yimou used them to "greet the arrival of spring". The countdown to the ceremony started from Rain Water, the second solar term (which falls on Saturday) and ended with the Start of Spring. After a desolate winter, the world comes back to life and enters another life circle.
Drawing its curtain on the day of the Start of Spring, the Games auspiciously foretold a vibrant spring for not only athletes but the entire human race.
The solar terms, having been developed throughout Chinese history since about 3,000 years ago and listed on the UNESCO's Representative List of the Intangible Cultural Heritage of Humanity in 2016, are so important to Chinese people that it appears both creative and natural for Zhang to employ and showcase them as a unique part of Chinese civilization to the world.