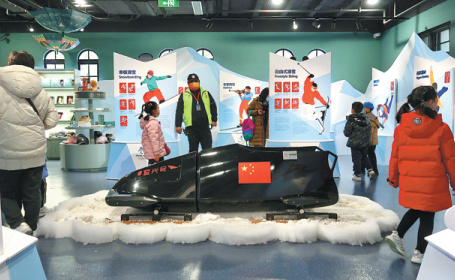 An ongoing exhibition on the Winter Olympics at the Shanghai Sports Museum will run until March 13.
Featuring 116 exhibits, divided into three categories, the exhibition showcases the history of the Winter Games, China's participation in the Olympics and stories of winter sports related to Shanghai.
The first documented attempt to create an ice rink in Shanghai was in the late 19th century. Then several Britons made the attempt but failed as the city wasn't cold enough. As a result, people turned to roller-skating. The city's first roller-skating rink was built in Hongkou district in the early 1900s.
Today, Shanghai has more than a dozen indoor ice rinks, three curling tracks and over 40 indoor skiing venues.
One of the featured exhibits is a single-person bobsleigh used by Shao Yijun, the first athlete from Shanghai who competed in the 2018 Winter Olympics in South Korea. Other exhibits include previous Olympic torches, medals and clothes worn by athletes of various disciplines.
In the chapter dedicated to the 2022 Winter Games, visitors are given an overview of the venues across the competition zones of Beijing and Zhangjiakou in Hebei province.
Yan Jiadong, chairman of Shanghai Ice and Snow Sports Association, said at the opening ceremony of the exhibition that he hopes the Winter Olympics in China will further promote the popularity of winter sports in Shanghai.
Another exhibition on promotional sporting posters from the early days of the People's Republic of China opened at the Shanghai History Museum on Jan 25 and will run until Feb 25.
Sixty posters created between the 1950s and '80s, including those for the first five editions of the national games and the poster celebrating "ping-pong diplomacy" between China and the United States in the 1970s, are on display.