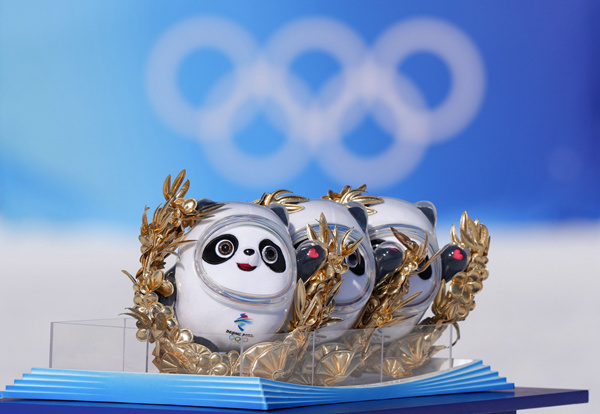 Cao Xue, whose vision helped give birth to the beloved Olympic mascot, Bing Dwen Dwen, reflects on the design of what is sure to become a cultural icon, Xu Haoyu reports.
The curtain on the Beijing 2022 Winter Olympics was officially raised on Friday. Apart from the spectacular opening ceremony and the breathtaking performances of the athletes thus far, it is Bing Dwen Dwen, the panda-shaped mascot, which has, arguably, captured the most hearts and public imagination.
The fuzzy face of the smiling panda is surrounded by a colorful halo, which represents the five colors of the Olympic rings. It is also inspired by the National Speed Skating Oval of the Beijing Winter Olympics, which is affectionately called the "ice ribbon", with flowing lines of bright colors symbolizing the winter sports track and 5G technology. Bing Dwen Dwen is protected from the cold by a clear shell, inspired by the protective helmet in winter sports, making the popular panda resemble an astronaut, looking into the future. Melting the winter chill with welcoming warmth, he waves in greeting, with a heart in the middle of his left paw.
Cao Xue, the 58-year-old chief designer, said in an interview with Red Star News, "There are so many excellent designs from abroad today, but we must not forget that the culture is our root, and designers of any country or nation should be good at looking to their past to see their own future."
The heart-melting mascot now has a massive fan base, and people are going crazy for products featuring the smiling panda presenting the 15 major events at the Beijing Winter Olympics.
Gido Tsujioka, a 35-year-old Japanese journalist from Nippon Television Network Corp, is now widely known for his love of the mascot, and is being affectionately called Gido Dwen Dwen online in China.