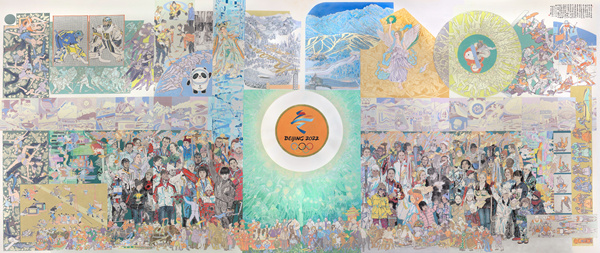 Beijing biennale celebrates humanity's creativity and resilience, Lin Qi reports.
Sports and art are two fields that generate courage and hope, especially when the world is facing difficulties of all kinds. This is the core idea of the ninth Beijing International Art Biennale, now underway at the National Art Museum of China through Tuesday.
Organized by the China Artists Association, the biennale opened in the capital city that is also hosting the ongoing Winter Olympics in spite of the obstacles caused by the COVID-19 pandemic.
Overcoming difficult situations is not new to the biennale's organizers. The inaugural exhibition was unveiled in September 2003, showing hundreds of paintings and sculptures by artists from across the world, despite the SARS outbreak.
This year, the biennale brings together more than 700 works, some of which are displayed in rotation on digital screens due to shipping restrictions during the pandemic.