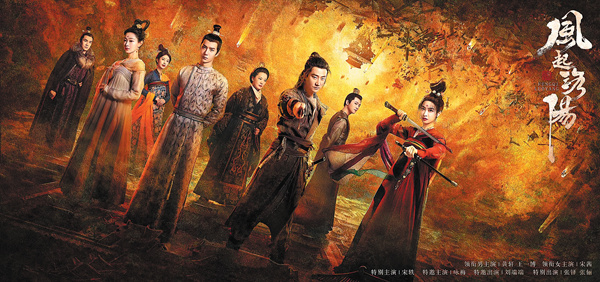 Luoyang provides compelling backdrop as it sets the scene for costume drama, Xu Fan reports.
For most Chinese tourists, the mere mention of Luoyang in Central China's Henan province immediately brings to mind thoughts of peonies or the famous Longmen Grottoes. However, the historic city, which dates back more than 5,000 years, has recently gained widespread attention for another reason-its starring role in a popular online series.
Starring actors Huang Xuan, Wang Yibo and actress Song Qian in the lead roles, Luoyang-a 39-episode historical mystery series currently running on the streaming site iQiyi-has racked up millions of clicks domestically, and is also drawing a wider viewership overseas, such as in Thailand, South Korea and Singapore.
Adapted from writer Ma Boyong's novel of the same title, the fictional story, set in ancient China, follows the mystery-solving exploits of an unlikely trio of "detectives"-a grassroots avenger struggling with his traumatic past; a rich, yet geeky, heir from a prestigious craftsman's family; and an ambitious female guard leader who's also a distant relative of the top ruler.
It starts with the murder of a whistleblower and his young daughter, which unleashes a chain of mysterious incidents. The trio-portrayed by Huang, Wang and Song-are forced to join forces to hunt down criminals and stop a horrible conspiracy that will threaten the security of the entire country.