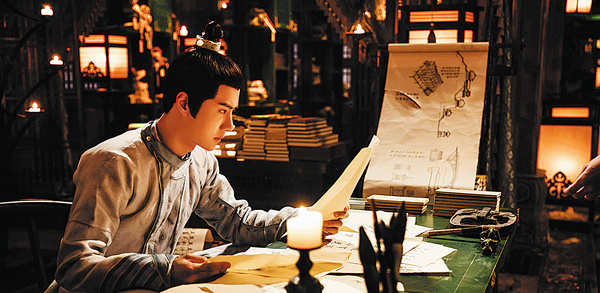 The tale's overall aesthetic, from the ancient city's bustling streets to the outfits and accessories of the characters, is mostly inspired from that which prevailed at the cultural height of the Tang Dynasty (618-907). Luoyang is considered by some critics to follow a similar formula to that of the 2019 smash hit, The Longest Day in Chang'an, also adapted from a popular Tang Dynasty-inspired novel penned by Ma.
As a prolific author, Ma is known for his talent in interweaving a profound knowledge of history with suspense stories filled with plot twists, such as The Game of Antiques and 15 Days From Nanjing to Beijing. Currently with around 20 movies and TV series-some still in preparation or production-adapted from his novels, Ma has become one of the most sought-after novelists in the entertainment industry.
Responding to curious fans about how he has maintained a stable output of quality work, Ma reveals that his solution to solving a shortage of inspiration is "to stop writing and get outside to play and have fun".
"I will go jogging, play video games, or merely wander the streets. Personally, I believe that inspiration is like a kitten. If you try to catch it, it flees. If you ignore it and do something else, it may return and rub against your leg," says Ma.
Speaking about his inspiration to create Luoyang, Ma says he has been interested in the historic city-which served as the capital for more than 10 ruling dynasties-for a long time.
"For all those who are yearning to dive into Chinese history, it's impossible to avoid researching this historic city. There was not a sudden moment that lured me to start writing, but a yearslong accumulation of love and passion for the city of Luoyang finally pushed me to put pen to paper," Ma says.