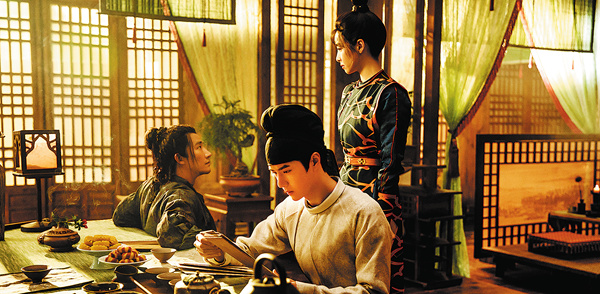 Despite describing himself as an enthusiastic eater of delicious foods, Ma says he's not a good cook. "I once jokingly told the scriptwriters that I might be unqualified to describe the cooking techniques precisely (due to lack of practice), so I hoped they could make an effort to show the details of the delicacies," recalls Ma.
Living up to his expectations, the series features mouthwatering culinary delights, from street snacks such as mutton soup, to aristocratic family feasts, including a long, exquisitely designed table with its own water-filled "canal "for moving floating dishes from one end to the other.
Cooperating with Ma for many years, Xu Kang, founder of the production company Liu Bai Entertainment, recalls that the project was originally shaped in 2017. They believed a historic city like Luoyang would cater to a Chinese audience who have "a strong national pride "and love to watch stories set in a prosperous historical era.
"There are always many legends and anecdotes scattered throughout the historical chapters of an ancient city. Ma has a talent to discover the 'gaps' (referring to ambiguous or unwritten parts) in the history, so his tale-probably better to be defined as a 'possible history tale'-has lured us to explore Luoyang's past more deeply," says Xu, also one of the series' chief producers.
Luoyang, the crew found during research into the city, has abundant water resources, with sections from the Huaihe, Yellow and Yangtze rivers flowing across the city, inspiring them to highlight this feature in the series.
Rivers can be seen in multiple settings, from the city's sprawling markets to a half-underground slum. In an effort to increase the visual appeal, the crew also designed a huge Buddha statue, comprising 2,400 crystal stones and able to rotate 360 degrees. They installed it as a pivotal artifact in a royal intelligence agency's headquarters.
Dai Ying, the other chief producer and senior vice-president of iQiyi, says the series is the first installment of iQiyi's "Chinese Historic Cities Universe", a franchise scheduled to create a series of stories in similar settings.
With such a franchise, Dai adds that they hope more viewers will enjoy the charm of China's traditional culture, raising their interest enough to learn more about the country's glorious history.
"So far, the series has been well-received both domestically and overseas. We believe the chivalry reflected by the lead characters is also one of the main attractions of the show, conveying a core value cherished by Chinese people and, therefore, resonating with the audience," says Dai.