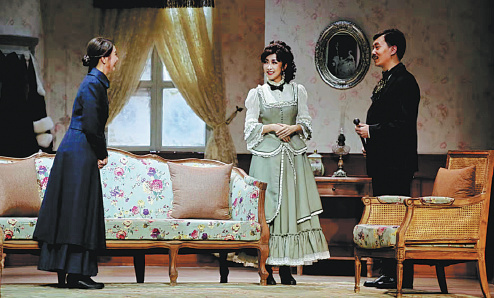 The NCPA celebrates its 14th anniversary with on-site and online programs, Chen Nan reports.
The National Center for the Performing Arts in Beijing is celebrating its 14th anniversary with a series of shows this month. Amid the COVID-19 pandemic, the NCPA is marking the event with performances both at the venue and online.
According to Gong Jicheng, vice-president of the NCPA, every year on Dec 22, public programs were traditionally staged at the venue for free. However, this year, such programs have been canceled in line with pandemic prevention restrictions in China.
The Beijing Symphony Orchestra will present two concerts under the baton of conductor Li Biao that include Dvorak's Carnival Overture, Gustav Mahler's Symphony No 10, Adagio and Igor Stravinsky's Firebird Suite (1919 version) on Tuesday and Wednesday.
On Wednesday, the NCPA's opera film, Visitors on the Snow Mountain, will be screened at the opera house.
Premiered in 2014, the Chinese opera, directed by Chen Xinyi and featuring soprano Dilber Yunus, is based on a 1963 Chinese movie of the same name. Set in the early 1950s on the borders of the Xinjiang Uygur autonomous region, the movie is about a 16-year-old girl and a young man, both from the region, and how they help soldiers of the People's Liberation Army root out spies.