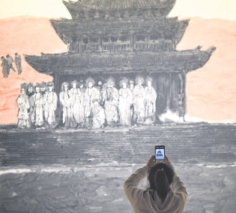 "They lit up the sky and pictured a collective image of people in the northwest, and their paintings joined to form a grand new work to voice their awe for art and love of life," says Xing, who is himself a pioneering artist of the Chang'an school.
He says the torch has now been passed on to the younger generations and the current exhibition is like a "second journey" of equal significance to the one in 1961, "a platform where people can discover future master painters".
After Beijing, the exhibition will travel to Nanjing, Jiangsu province, where it will be held at the Jiangsu Art Museum from Dec 1 to 8, and return to the Shaanxi Province Art Museum from Dec 18 to Feb 20.