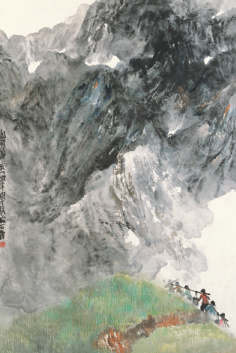 Later, generations of artists held on to the spirit to develop more dimensions of the style, Deng says.
A distinctive feature of the school is the use of references to the northwestern region as being shaped by the Yellow River and the Loess Plateau in depictions of majestic and desolate landscapes. One can also see the different approaches to the landscapes by two generations of painters.
Deng says those born in the 1930s and '40s prefer a "quasi-realistic" style to present the panoramic views of the mountains and water, by which they accentuate a historical narrative and symbolic expressions in their artworks. While young and middle-aged painters reduce the presentation of details, but favor showing the beauty of forms in which they hint at the mentality of modern people.
"When the six painters left for Beijing 60 years ago, carrying their works from Xi'an, they were paving a way to connect the fine art circles of Shaanxi with the outside world," says Xing Qingren, director of the Shaanxi Province Art Museum in Xi'an which holds in its collection dozens of the paintings on show.