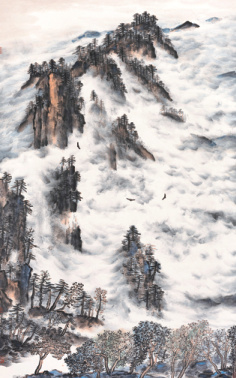 A Journey From Chang'an, a show that started on Nov 11 at the National Art Museum of China and runs through Nov 21, is a reenactment of the history 60 years ago. It brings together the works of the six founding painters and more than 100 paintings by 32 artists who continue to paint in the style.
The exhibition expresses the features of the school-"renovating while based on traditions and keeping up with the time", says Deng Feng, a senior curator of classical Chinese paintings at the museum.
He says the school rose to prominence when the style of classical Chinese painting underwent changes in the 1950s and '60s to meet cultural demand.
The school provides a vivid portrayal of the natural environment of the northwest and the people laboring on the land, "rendering such motifs an atmosphere of revolutionary romanticism", he adds.
"The school was driven by an effort to make breakthroughs in traditional brushwork combined with a quest for the truth of life."